China-standard EMU trains ready for commercial operation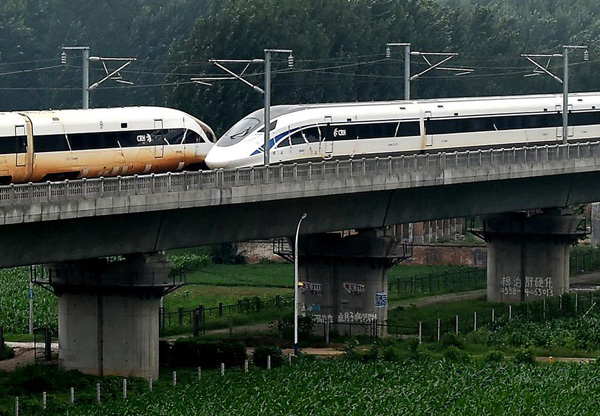 Two trains, "Golden Phoenix" (left) and "Dolphin Blue," traveling at 420 km per hour, cross on lines between Zhengzhou in Central China's Henan province and Xuzhou in East China's Jiangsu province, on July 15, 2016. [Photo/Xinhua]
BEIJING -- "China-standard" bullet trains, or electric multiple unit (EMU) trains, are ready for mass production and commercial operation, according to the National Railway Administration (NRA).
Two China-standard EMU trains, the Golden Phoenix and Dolphin Blue, whose design and intellectual property rights are completely owned by China, have obtained quality certification and manufacturing permission from the NRA.
All performance indicators of the two trains, including those of safety, comfort, operational adaptability, stability and quality, have met design requirements after a set of tests, according to the NRA.
China began research and manufacturing of the new EMU models in 2012, and the two trains were unveiled in June 2015.
In July last year, the Golden Phoenix and Dolphin Blue passed each other on parallel tracks in opposite directions travelling at 420 km per hour in a test run.
The two trains are different models made by two different companies, both subsidiaries of China Railway Rolling Stock Corporation.
The success of China-standard EMU trains has boosted progress in related industries and provided strong support for the development of the real economy, the NRA said.
The development of the EMU trains involved nearly 300 enterprises from machinery, metallurgy, electronics, chemical, computer and information management sectors, and all components related to the train's key and complementary technologies were produced in China.
China has the world's largest bullet train fleet and the world's largest high-speed rail network, totalling 22,000 kilometers by the end of 2016.
Of the 2.77 billion railway passenger trips in China last year, more than half were made on EMU trains.