Bourses to invest in Pakistan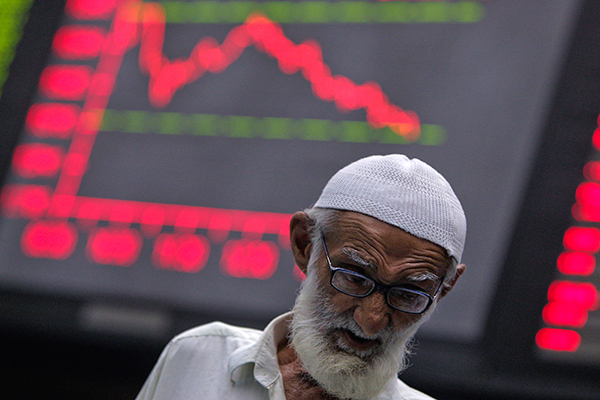 A man reacts in front of an electronic board displaying stock prices at the Karachi Stock Exchange. [Photo/Agencies]
Consortium to buy 40 percent stake in Karachi stock exchange
A Chinese-led consortium has successfully bid to buy a 40 percent strategic stake in Karachi-based Pakistan Stock Exchange (PSX), according to an announcement of the Shanghai Stock Exchange (SSE). This is the first time for a Chinese bourse to acquire shares of a foreign stock exchange.
The announcement, dated Dec 30, 2016, said the consortium includes three Chinese bourses-Shanghai-based China Financial Futures Exchange, the Shanghai Stock Exchange, and the Shenzhen Stock Exchange. Together, they will take a 30 percent share. Two Pakistani financial institutions in the consortium, Pak-China Investment Company Limited and Habib Bank Limited, will take 5 percent each.
The consortium will invest $85 million, a source with close knowledge about the deal told China Daily.
Deng Ge, spokesman of the China Securities Regulatory Commission, said earlier that CSRC supports the acquisition and hopes the deal is completed smoothly, with the prerequisite that the risks are controllable.
"This investment will help broadening economic and financial collaboration between China and Pakistan and will help implement the Belt and Road Initiative and the China-Pakistan Economic Corridor," said the announcement of SSE.
PSX expects that the investment will bring experience, technological assistance and new products, according to a report by Dawn, a Pakistani news outlet quoting a PSX official. For example, options trading and futures trading may be activated.
The PSX was formed in January 2016 when the Lahore, Karachi and Islamabad stock exchanges consolidated into one bourse. PSX was included in the emerging market index of the Morgan Stanley Capital International in June last year.
"Pakistan's market reform has been accelerating in recent years and the country has received backing from global institutions and overseas capital, making PSX more appealing to global investors than before," said Bao Kaijun, an analyst with Shanghai-based Kunyuan Investment Advising Services.
China's financial market has been opening up and getting increasingly connected to global markets. The Shanghai-Hong Kong Stock connect and Shenzhen-Hong Kong Stock connect are key to this opening.
Zhang Wenlang, analyst with Everbright Securities, said that as China's financial market continues to open up, it is likely that there will be more collaborations between Chinese financial institutions and overseas ones, including the Shanghai-London stock connect, which is under discussion.