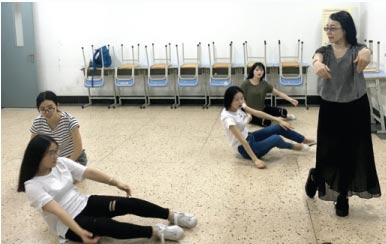 He Yue (right) guides students in their rehearsal. [Photo by Wu Yingli/China Daily]
Many of those who participate in the productions have since gone on to professional jobs or further studies overseas. One even got admission into New York University to major in theater direction. Many say they benefited from the unique experience of working onstage-or offstage for that matter, as the students also take on miscellaneous jobs.
He Yue, who majored in English, has been a fan of the theater all her life. While a visiting scholar at New York's Columbia University, she started to dip her toes into the theatrical waters, so to speak. She happened to be in Edinburgh when the world famous theater festival got into full swing, which exposed her to snippets of Shakespeare put on by college students. So, she believed her students could pull off a similar feat.
The biggest challenge in doing a gala-style show is the rehearsal time, she says. The students all have different schedules and the best she can hope for is one rehearsal day on a weekend. Most of the big shows that become the talk of the town are prepared at either the beginning or the end of a summer vacation, "but even then students have other tasks such as internships that may intrude on rehearsals."
As amateur productions go, the Gongshang Shakespeare shows are quite professional, and require a substantial investment in costumes, props and makeup. He Yue puts in her own money, usually in five digits for a production, but she says the school has been supportive and usually ends up footing part of the bill.
For the 2012 show, the school paid 10,000 yuan out of the total 14,000 yuan. The 2013 performance was covered by the Hong Kong organizer. The 2014 gala cost 33,000 yuan and the school paid the bulk, 30,000 yuan.
Justifying the financial support, Chai Gaiying, dean of the Foreign Languages College, says: "Our goal is to raise the cultural level of the students, and to promote great culture through the course of interpreting some of these works. We want our students to not only become professionals, but to attain a global vision and cultural sophistication."
While many of China's schools of higher learning have theater clubs, only a few consistently present the Bard. And He says that her school could be the only one in the Chinese mainland that devotes a course to both learning Shakespeare's texts and presenting them on stage.
"You have to have many things lined up for it to happen," she says. For one thing, it is a full-time job to coach students.
While most teachers of her rank are probably busy working on the Chinese equivalent of tenure, she says she is happy to see her students on stage unleashing their potential.
Related: