Taiwan's glorious Oolong tea merchants aim for mainland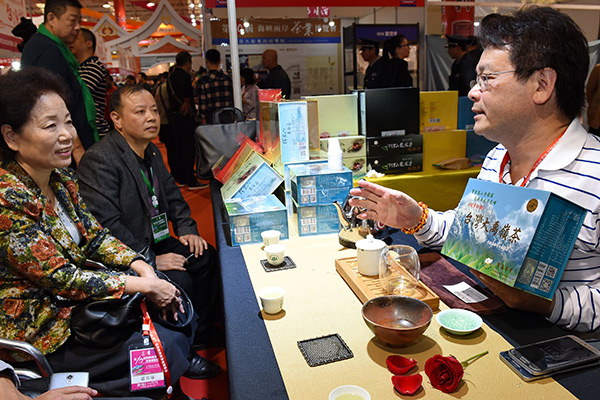 A tea merchant from Taiwan (right) showcases his tea sets at a tea expo held in Fujian province that attracted businessmen and tea lovers from across the Taiwan Straits. [Photo/Xinhua]
Around 200 years ago, Hsu Chien-fu's ancestors from Hsinchu in northwest Taiwan were among the first to plant tea in the island's fertile soil.
Now the family business sells tea to most of Taiwan and half of the mainland. Hsu recently participated in a trade fair in Beijing, hoping to increase mainland sales.
The three-day trade fair at Beijing Exhibition Center, featuring agricultural products from eight counties in Taiwan, began on Dec 24 and was backed by the central government aiming to heat up cross-Straits trade and tourism. Taiwan's tea merchants comprised half of the 130 exhibitors. They hope to expand revenues by securing more sales channels on the mainland, including e-commerce, while their local sales have been hit by slowing economic growth and a falloff of mainland tourists.
Taiwan is famous for Oolong, a type of fermented tea. White Tip Oolong, better known as Oriental Beauty, is a specialty from Hsinchu. Hsu sold it at 380 yuan ($55) for 150 grams at the fair.
The Hsu family manages the Emei Tea brand, and has been selling to mainland for nine years. Its mainland business peaked between 2011 and 2014, with annual mainland sales taking up 30 percent to 40 percent of their total revenue.
They gained reputation after winning the title of "King of Tea" in the Cross-Straits Tea Championship in 2011, but the sales boom was more likely boosted considerably by a general spike in trade after the signing of the Economic Cooperation Framework Agreement in 2010.
ECFA was the mainland's move to facilitate cross-Straits trade.
"We used to rely on the Mini Three Links, but tea sold this way reached more limited numbers of consumers," said Hsu. "With the ECFA, we sell to more people in more places."
However, the slow growth of mainland economy struck the tea business this year. Hsu's annual mainland sales dropped to 15 percent of their total revenue.
The sharp fall in mainland visitors to Taiwan exacerbated the situation, said Lau Chin-yi, head of a Taiwan-based tea product association.
"Many visitors bought tea in Taiwan and carried it home before. Now tea stores are empty of travelers," he explained. "This is a hard blow."
Taiwan's data shows the mainland was the biggest importer of Taiwan's tea in recent years. Annual tea sales to the mainland in 2015 increased 60 percent to $24 million. Though the momentum in growth slowed significantly in 2016, sales still exceeded last year's by $1 million.
There is still room to grow: Taiwan Oolong only claims 11.4 percent market share of the mainland Oolong consumption, according to China Tea Marketing Association.
"The market is almost saturated in Taiwan, but huge in the mainland," said Taiwan tea merchant Lin Yao-jing at the trade fair.
"Luckily, our tea is handmade and more delicate in production, or else we could never compete in the mainland market."
His next move is to seek deals with mainland e-commerce companies.
Selling tea online has been gaining popularity in the mainland. Chinese e-commerce giant Alibaba reported that annual tea sales on its shopping platforms rose 27.5 percent to reach 8.8 billion yuan in 2015. More than 20 million people viewed tea products during the Singles Day shopping festival, almost doubling the number of 2014.
The Hsu family began cooperating with a mainland teashop on Taobao.com last year, but a monthly sale of 20,000 yuan is a tiny piece of its total revenue. Hsu also runs an online shop in Taiwan with top customer ratings.
"Taiwan residents usually buy some tea online to test the quality, and come to shops to buy more if they like it, but mainland residents might be different," Hsu said.
Sun Hong, deputy general manager of a Beijing e-commerce platform Benlai.com, said that Taiwan tea could find its way in the mainland market as long as both sides form a sustainable supply chain and cater to the needs of mainland customers.
For Hsu, forging links with more tea dealers through trade fairs is a priority, while selling more online is a plus. Yet he envisions opening stores in Beijing in the long term.
"Taiwan is really small in size. Beijing almost equals Taiwan in population," he said"But first,we need to make our brand known among mainland customers."
He Fei contributed to this story.