Hotel guests may not be able to contain their delight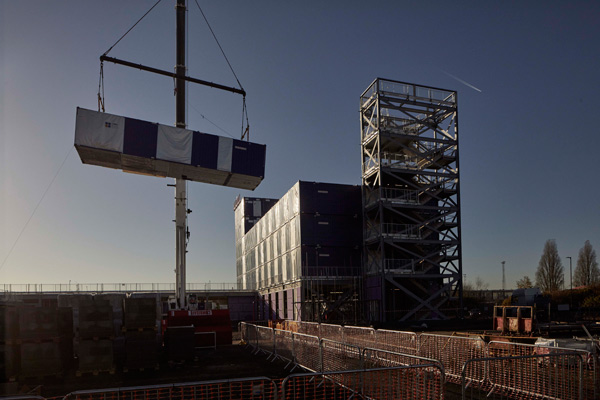 New modular hotel is being constructed in Trafford City in Greater Manchester, UK. [Photo provided to China Daily]
A new hotel is under construction in Manchester - and it's being built entirely with shipping containers from China.
Set for completion in May 2017, the 220-room Holiday Inn Express near the EventCity exhibition center in Greater Manchester is the first large-scale modular building of its kind in the North West. The shipping containers are produced by Shenzhen-headquartered CIMC Modular Building Systems, a subsidiary of China International Marine Containers (CIMC). The company decorates the containers in China before shipping them to the UK.
Peter de la Perrelle, managing director of Tower Hotel Management, part of the Peel Group, which has the management contract to operate the hotel, said: "The containers are completely furnished on the inside, complete with bathrooms - all we have to do is lower them into position and bolt them in, then they are plumbed and plugged in and are operational."
The site was purchased from the Peel Group in a joint venture between real estate companies Topland, Marick Capital and Mill Lane Estates, which then approached CIMC to collaborate on the build. The Chinese company built a sample room which Holiday Inn Express' parent company IHG inspected in China before giving the go-ahead.
De la Perrelle says that while the novel approach is marginally cheaper than traditional methods, the real benefit is that the hotel can be built quickly.
He said: "With traditional methods it takes about 18 months - we are on schedule for a 41 week build. So, you're bringing your product to market a lot quicker and can start earning money on the investment sooner than you would with normal methods."
Each shipping container weighs 20 tons, and comprises two rooms and part of a corridor. All containers have now been installed on the Manchester site and the process of waterproofing and fitting the building's outer cladding is currently underway.
"It has gone beautifully. The main building contractor has been very impressed with the smoothness of the operation - the pods arrived on site on schedule and the build program is spot on,"de la Perrelle said. "It's been a great collaboration between the build contractor and CIMC."
CIMC Modular Building Systems has worked on more than 10 projects in the UK - clients include the InterContinental Hotels Group, Rezidor Hotel Group, Accor and Hilton.