House of Fraser opens first Chinese store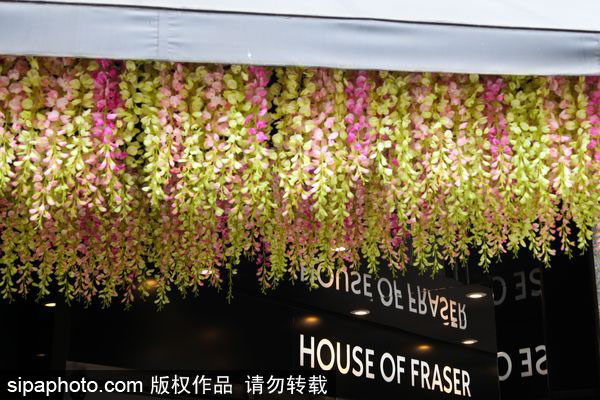 Floral display outside House of Fraser store in Oxford Street in London, May 24, 2016. [Photo/SIPA]
Chinese-owned British retail chain House of Fraser has opened its first store in China as it launches a drive to extend the brand throughout the Asian powerhouse.
The retailer, bought by Chinese conglomerate Sanpower Group two years ago in a deal worth more than 450 million pounds ($745 million), made its Chinese debut in Nanjing, capital of Jiangsu Province.
Situated in a Sanpower-owned mall, the six-storey store is offering goods from more than 300 brands.
House of Fraser chairman Frank Slevin said: "The opening of the store in Nanjing is a strong way to finish 2016. The store has focused on bringing international brands and a premium shopping experience to China."
The retail chain has 59 stores across the UK and Ireland and annual sales worth 1.3 billion pounds.
Nanjing-based Sanpower, which purchased an 89 percent stake in the 165-year-old House of Fraser in 2014, agreed to inject 70 to 80 million pounds into the brand to finance a major store revamp.
House of Fraser has been restructured since the refinancing and the business is seen as on its way to sustainable profitability in a very competitive market segment of the retail sector.
Shaun Rein, managing director of China Market Research Group, said it was a smart move to open a large flagship store in Nanjing. Consumers there have money but do not enjoy the same choice of department stores as customers in Beijing and Shanghai, he said.
He said, however, that a problem for bricks-and-mortar stores in China is that consumers are far more likely to shop online these days.
"Fifty percent of sales will take place online in China within the next five years versus only 10 to 15 percent in Europe," Rein said.
Jeffrey Towson, who teaches investment at Peking University, said the success of British retailers in China is hard to predict.
"It's usually not clear whether it is the retail concept, the foreign versus local management or the long-term commitment that matters most," he said. "But House of Fraser has what Marks & Spencer did not – the ownership will never leave the China market."