SMEs keen on e-commerce exports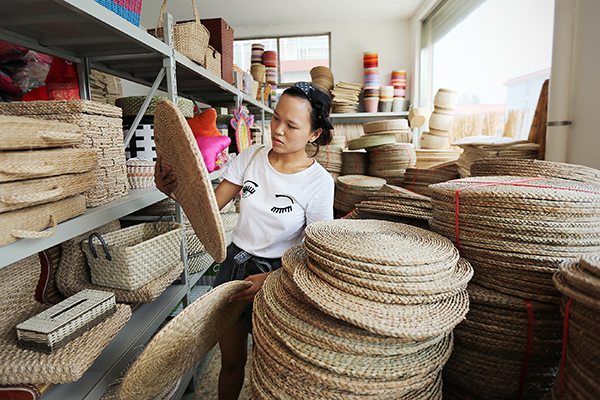 A woman in Binzhou, Shandong province, sorts straw and willow products, which are made in a company she owns and sold online. [Photo provided to China Daily]
Small and medium-sized enterprises in the Chinese mainland are more enthusiastic about the use of e-commerce and digital channels to drive export growth than their counterparts in other Asia-Pacific countries and the rest of the world.
About 97 percent of the 500 Chinese SMEs studied are already exporting their goods through e-commerce, compared with 80 percent for the Asia-Pacific region and globally, according to a recent research commissioned by FedEx Express.
The research covered 17 markets worldwide in August and September, interviewing 1,000 SME senior executives in Britain and 500 in each of the other markets.
About 61 percent of the Chinese firms believe they will generate more e-commerce revenue next year, compared with 40 percent globally and 44 percent in Asia-Pacific, said Eddy Chan, head of FedEx China.
As reported by the study, 94 percent of the Chinese SMEs are already generating revenue through mobile commerce (25 percent of their total revenue) and social media transactions (17 percent). In contrast, only 59 percent of SMEs in the rest of Asia Pacific and 67 percent globally are getting revenue through these two channels.
"Despite sluggish global growth, Chinese SMEs are weathering the storm. Ninety-three percent of exporters forecast that their existing level of export revenue will either stay the same or increase in the next 12 months," Chan said.
While the digital economy opens up opportunities, it also creates challenges. Challenges also come from increasing production costs and greater competition in other markets.
"Chinese SMEs are forward-looking, however, seeing technology as means to cope with their concerns and help them improve their export business."
About 48 percent of the Chinese companies interviewed say investment in new technology is their top solution to overcome challenges and 81 percent believe technological innovations will make exporting easier.
Recognizing the value of an efficient supply chain, 96 percent of the Chinese SMEs in the study agree logistics is an important part in their export process and about 66 percent say they have become more reliant on logistics providers in recent years.
Cross-border e-commerce exports from China stood at 4.5 trillion yuan ($648 billion) last year, up 26 percent year-on-year, including both B2B and B2C modes, according to China E-Commerce Research Center.
In June last year, the State Council issued a 12-point guideline for promoting healthy and speedy cross-border e-commerce, including the establishment of suitable policy and supervision systems and facilitating every aspect of trading.