China's November exports up 5.9%, imports up 13%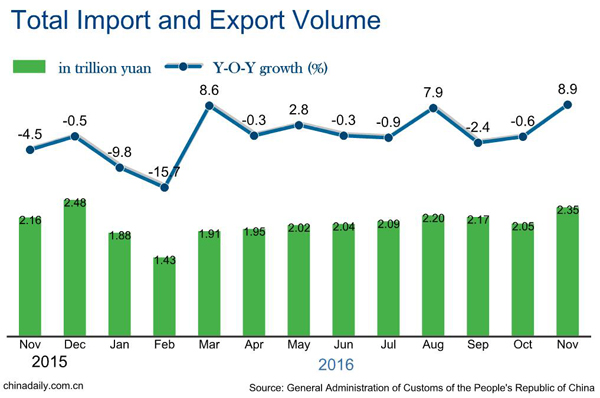 BEIJING - China's exports in yuan terms ended previous drops to rise 5.9 percent year on year in November, while imports continued to pick up steam by increasing 13 percent, customs data showed on Thursday.
Foreign trade volume reached 2.35 trillion yuan ($340 billion) in November, with trade surplus narrowing to 298 billion yuan, according to the General Administration of Customs (GAC).
Trade volume for the first eleven months dropped 1.2 percent from a year earlier to 21.8 trillion yuan while trade surplus shrank 5.8 percent to 3.1 trillion yuan.
Foreign trade with China's largest trade partner - the European Union - rose 3.1 percent in the first eleven months.
In the same period, foreign trade with the United States, China's second-biggest trade partner, fell 1.7 percent, and that with ASEAN, its third-largest trade partner, gained 0.8 percent.
Exports of machinery and electronic products as well as goods in labor-intensive sectors like textiles and toys posted declines in the first eleven months and private firms still led the country's exports.
Meanwhile, imports of large commodity goods including iron ore and crude oil continued to grow in the January-November period featuring general price drops, customs data showed.
An official index predicting future trade growth prospects began to rise again in November, climbing by 1.3 points from the previous month.
Containers pile up at Waigaoqiao Port in the Shanghai Free Trade Zone. [Photo/ Xinhua]