Foresea Life Insurance raises Gree Electric Appliances stake to 4.13%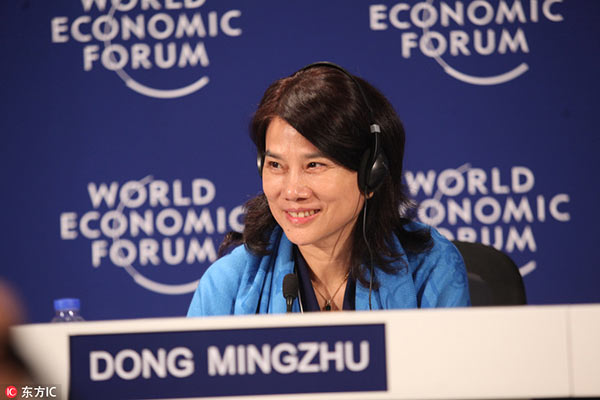 Dong Mingzhu, chairwoman and president of Gree Electric Appliances Inc, smiles at the Annual Meeting of the New Champions 2014 in Tianjin, September 10, 2014.[Photo/IC]
Foresea Life Insurance has raised its stake in Gree Electric Appliances to 4.13 percent, becoming Gree's third largest shareholder, National Business Daily reported.
Foresea Life Insurance has purchased 188.90 million shares between Nov 17 and 28, and now holds 4.13 percent stake, up from 0.99 percent at the end of the third quarter, Gree Electric Appliances Inc, the country's biggest air conditioner producer, said in a filing to the Shenzhen Stock Exchange.
As the company's shares gained 27 percent between Nov 17 and 28, Gree Electric Appliances halted share trading from Nov 29 and planned to resume trading on Dec 1.
Gree Electric Appliances' top two biggest shareholders are Zhuhai Gree Group Co Ltd (1.096 billion shares or 18.22 percent) and Hebei Jinghai Guaranteed Investment Co Ltd (536 million shares or 8.91 percent), according to data from iFinD, a domestic financial information service company.
Dong Mingzhu, one of China's most prominent businesswomen, was removed from the post of chairperson of the State-owned conglomerate Gree Group on Nov 11, but stayed on as the head of its electronics arm. Dong holds 44.29 million shares or 0.74 percent of Gree Electric Appliances.
China International Capital Corporation Limited (CICC) said in a report Monday that it sees a "high probability" that Foresea Life Insurance would increase its stake in Gree Electric Appliances to over 5 percent, based on dispersed ownership, low PE valuation and steady cash flow.
In addition, on Nov 17, Gree Electric Appliances scrapped the plan to acquire Zhuhai Yinlong New Energy Co via share issue after Yinlong's shareholders rejected the revised proposal. The former cannot plan new major restructuring steps between Nov 17 and Dec 16.
As the end of 2016 approaches, several insurance companies have purchased stake in some industry-leading listed companies, drawing regulatory attention to the purpose behind the move.
Anbang Insurance Group has bought at least 363 million shares of China State Construction Engineering Corp, the country's biggest construction company since Nov 18, boosting its holdings in the company to 6.21 percent of total outstanding shares. On Nov 24, Anbang increased again its stake in the construction firm to 10 percent.
On Nov 21, Sunshine Property and Casualty Insurance Co Ltd raised its stake in Jilin Aodong Pharmaceutical Group Co Ltd to 5 percent. In September, the insurance company also bought 5.67 million shares in Inner Mongolia Yili Industrial Group Co Ltd, taking holdings to 0.83 percent from 0.73 percent.
Total insurance premium in the first 10 months of this year has reached 2.7 trillion yuan, up 30 percent from a year earlier, Cao Deyun, executive vice-president of the Insurance Asset Management Association of China, said at the Annual Finance Summit of Asia held Wednesday. China is likely to surpass Japan in insurance premium at year end, only behind the United States, he added.