Minister wants China to stand out from the crowd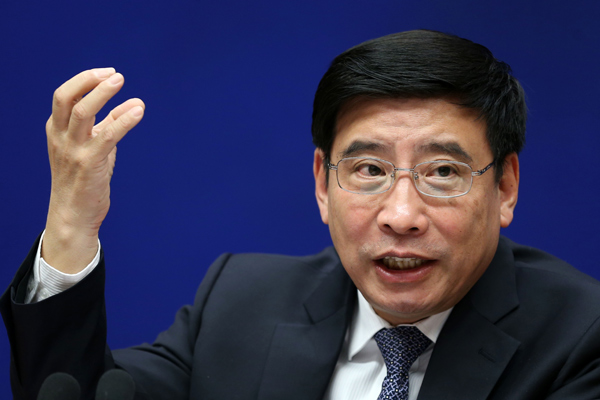 Miao Wei, minister of industry and information technology [Photo/Asianewsphoto]
The platforms will alter modes of output as well as management
China will encourage crowd innovation, crowd funding, crowd outsourcing and other innovative forms to further support the "Made in China 2025" initiative, especially in its mature and fast-growing sectors, said the country's top official for industrial businesses.
Miao Wei, minister of industry and information technology, said these platforms will change production and management. They will be able to attract both small and micro businesses, as well as big companies.
"It allows employees within the company to get rewards in addition to their salary by sharing their creative ideas online. It will also offer opportunities to manufacturers outside the company to take part in innovation and share the benefits," he said.
The "Made in China 2025" initiative is a 10-year national plan designed to transform China from a manufacturing giant into a global high-tech manufacturing power.
Robots and high-end numerically controlled machine tools are among the 10 key fields of the initiative.
With more capital and technology supporting models, the minister said, a large group of micro businesses will be incubated, and cooperation among research institutions through internet technologies will upgrade their innovations in a more efficient manner, in particular in industries such as e-commerce, telecommunication and other types of service businesses.
Eager to upgrade the country's manufacturing ability, the Ministry of Industry and Information Technology launched 46 intelligent manufacturing pilot projects in 2015 and started 63 projects, in industries such as bullet trains, 3D printing, construction machineries and electric vehicles this year.
The central government will allocate 5.2 billion yuan ($780 million) to promote 133 key projects in 25 provinces and autonomous regions regarding intelligent manufacturing this year, which is nearly 1.5 times the capital invested in the projects in 2015.
"China is experiencing a new type of industrialization, IT application, urbanization and agricultural modernization which can generate strong domestic demand," said Miao.
Shenyang-based Siasun Robot and Automation Co, the country's biggest robot maker by market value, has set goals to continue improving its innovative system to compete with those established foreign rivals including Switzerland's ABB Group or Fanuc Ltd of Japan over the next decade.
Qu Daokui, president of Siasun, said the company would make more efforts to train workers to manufacture and operate robots, as the national manufacturing initiative "Made in China 2025" gains momentum.