Shanghai Jahwa replaces boss again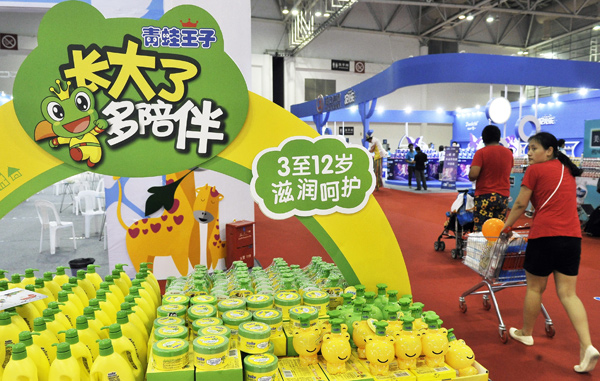 Customers walk by cosmetics products from Shanghai Jahwa United Co Ltd at an industry fair in Fuzhou, Fujian province. [Photo provided to China Daily]
A leading company with famous consumer brands, Shanghai Jahwa United Co Ltd said it had replaced its top leader for the second time in only three years.
The company announced late Friday night that Xie Wenjian, the company's chairman and chief executive officer since 2013, had resigned from all his positions "due to personal reasons". Liu Dong, currently vice president of Ping An Trust Co Ltd, will become Jahwa's new chairman. Zhang Dongfang, formerly CEO of Vinda International Holdings Ltd, has been appointed as the new CEO.
Jahwa's share price fell 0.84 percent to close at 28.33 yuan ($4.1) on Monday.
Although the company's announcement attributed Xie's resignation to personal reasons, industry analysts pointed out that its recent sales decline is closely related to changes in senior staff.
Public accounts show that Shanghai Jahwa made a total operating income of 4.28 billion yuan in the first three quarters of this year, down 7.14 percent. Net profit slumped 45.17 percent to 433 million yuan.
Xie boasted at the beginning of his tenure that Jahwa's sales income would exceed 12 billion yuan by the end of 2018, which implied that the company would grow by a minimum of 23 percent every year. However, the sales growth rate during the three fiscal years from 2013 to 2015 was only 11.74 percent, 19.38 percent and 9.58 percent respectively, which means that the 12-billion-yuan target is now unreachable.
The 118-year-old company has been a well-established brand among Chinese households for its signature product, Six Gods Floral Water. Its Herborist brand was the first Chinese domestic skin care product to enter overseas markets in 2008. Jahwa became a role model for State-owned enterprise reform in 2011 by introducing a major investor, Ping An Trust.
Frequent changes in the top management team have been regarded as one major reason of Jahwa's sales decline. Ge Wenyao, who had served the company for nearly three decades, had to resign from the chairman position in 2013 due to dissent from Ping An Trust.
Ironically, Ge wrote in his personal Weibo account in late October that Ping An chose the wrong person to be his successor. On Monday, he urged Ping An and administrative bodies to conduct an audit and investigate on Xie.
The recent sales decline can also be attributed to the increased cost in the expansion of distribution channels, brand building, new product research and investment, as well as the recruitment of more staff, according to Wang Liping, senior analyst with Shenwan Hongyuan Securities.