Shanghai Disney draws 4m, to approach break-even in 2017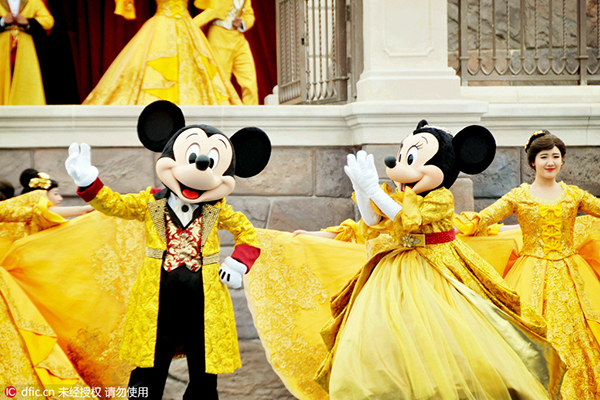 Entertainers dressed in Mickey Mouse and Minnie Mouse costumes perform at the Shanghai Disney Resort May 16, 2016. [Photo/IC]
Walt Disney Co said its new $5.5 billion Shanghai theme park attracted four million visitors in its first four months and will be close to breaking even in its first full year of operation in 2017.
About 50 percent of the park's guests are from outside the Shanghai area, a "big surprise" as the Chinese city had been expected to account for more than three-quarters of visitors, Disney Chief Executive Officer Bob Iger said in an interview with Bloomberg TV on Thursday. "The fact that it's so balanced leads us to believe that word of mouth on this and the intent to visit from well beyond Shanghai is very, very high," he said.
The Shanghai theme park, Disney's first in the Chinese mainland and its largest foreign investment, opened in June as the company races to capture the country's growing middle class and dominate its $180 billion media and entertainment industry. The company has also started producing movies in Asia's largest economy.
China Securities International tourism analyst Jennifer So expects the park will get 15 million visitors in its first twelve months of operations, while Macquarie Capital analyst Tim Nollen estimates the park will get 15.7 million annual visitors by fiscal 2019.
BLOOMBERG