ADB lends $34b to China in 30 years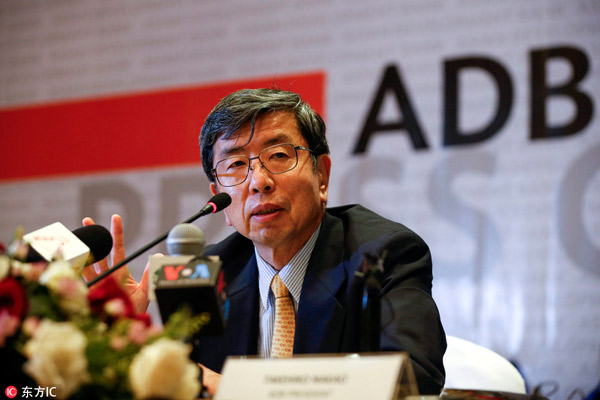 President of Asian Development Bank (ADB) Takehiko Nakao talks to media during the press conference about his visit to Myanmar, in Yangon, Myanmar, June 15, 2016. [Photo / IC]
SHANGHAI - Asian Development Bank (ADB) has provided $34 billion in loans to China since the country became an ADB member in 1986, bank president Takehiko Nakao said Thursday.
The loans comprised $31 billion for the public sector and $3 billion for the private sector, Nakao said at a symposium in Shanghai to commemorate the 30 years of China's ADB membership.
ADB also supported China with 430 million dollars in technical assistance grants.
"China has made an example of how an economy can achieve very rapid growth drawing on market systems and open trade and investment relations with partner countries," Nakao said.
Chen Shixin, director-general of the department of international economic and financial cooperation at the Ministry of Finance, said China has an all-round mutually beneficial cooperative partnership with ADB, and ADB has played an important role in poverty-reduction, economic and social development.
Chen said under the 2030 UN Agenda for Sustainable Development, multilateral organizations need to work with the developing members, especially by investing in infrastructure.
"ADB is ready to help China's further transformation and address economic, social and demographic challenges through our finance and knowledge work," Nakao promised.
He stressed ADB's readiness to support China in reducing CO2 emissions.