No delay expected on talks for treaty on investment
A visitor experiences a high-definition smart movie system on display by China's Royole Corporation at the consumer electronics show in Las Vegas. [Photo/Xinhua]
The ongoing negotiations for a bilateral investment treaty between China and the United States will not be obstructed or delayed by Donald Trump's new administration as both sides are under pressure to stimulate their economies, experts said on Wednesday.
Their comments came after Trump gained the keys to the White House in the presidential poll. Their optimism was despite the fact Trump previously pledged to impose tariffs on Chinese products to "level the playing field", even though analysts said this would be contrary to the rules of the World Trade Organization.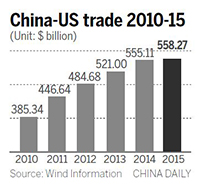 He Jingtong, a professor of trade policy at Nankai University in Tianjin, said potential political conflict would not occur after Trump took over the reigns of power, because he needed to fulfill his promise to create jobs in the country's manufacturing sector, at least within the next two years.
"The US economy still relies on big-ticket investment from China to create new market growth points to boost both job and export markets," He said.
"Shutting down the BIT talk channels will not conform to the interests of both new US federal government and local governments, especially those located in the so-called Rust Belt in the country."
Backed by its legal environment, infrastructure facilities and market demand, the US remained China's biggest overseas investment destination in the first three quarters of this year. China's outbound direct investment to the US amounted to $16.24 billion during the nine-month period.
Chinese investment mainly flowed into the country's manufacturing and information, food processing, retail and housing sectors.
BIT is an agreement signed between two countries or regions on cross-border investment. It assures foreign investors of nondiscriminatory treatment and protection against unwarranted expropriation.
"The road ahead is still fairly tough," said Zhang Jianping, director of the International Economic Cooperation Institute at the National Development and Reform Commission.
"The validation of the BIT can help both Chinese and US companies operate businesses in each other's markets independently in the long term, instead of looking for local partners to form joint ventures," Zhang said.
He said this would give investors more flexibility to control their finances and make investment decisions.
China and the US held their 31st round of BIT talks in Washington this week.
China has signed bilateral investment treaties with 130 countries and regions in the world, according to the Ministry of Commerce.