Singles' Day sales set to hit $20b as sellers support it
Chinese-inspired special day beating iconic Black Friday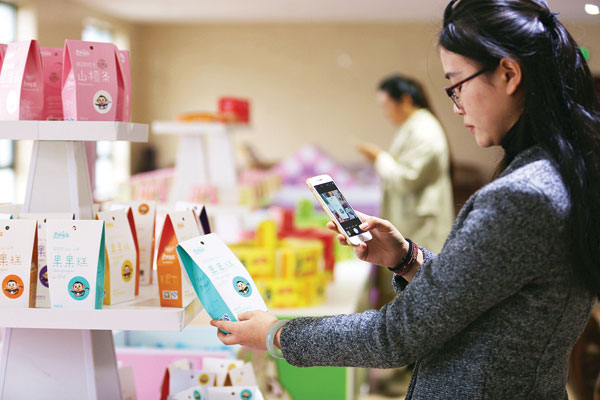 A staff member from a hawthorn berry processing company takes a picture of one of the company's products to be used for their online promotion ahead of Singles' Day. [Photo by Liu Huanyu/Xinhua]
Retail market analysts predict this November's big shopping holiday-China-inspired Singles' Day-will see a year-on-year increase in sales of 40 percent, as Alibaba and major international brands use virtual and augmented reality to woo online shoppers.
As with the UK and US shopping day known as Black Friday, Chinese online retailers will offer a slew of promotions on Nov 11 that could help generate up to $20 billion this year, a 40 percent increase on last year's gross merchandise volume of $14.3 billion, according to Fung Global Retail& Technology. The 2015 figure represented a year-on-year increase of 54 percent on 2014.
Originally established in the early 90s as a day to celebrate being single-note the lonely numerals of the date 11/11-ecommerce giant Alibaba began offering discount prices in 2009 to combat the historical slump in sales between Golden Week in October and Christmas. This year, more British online retailers are joining in with specific offers targeted at China.
In terms of online sales volume, Singles' Day now dwarfs Black Friday, the shopping holiday that unofficially marks the start of Christmas shopping in the UK and US that falls on Nov 25 this year. Last year, Brits spent $1.35 billion and shoppers in the US spent $5.8 billion online during Black Friday and its web-based equivalent, Cyber Monday. Analyst Fung Global says its 2016 forecast is driven by a tailwind from Chinese online shoppers' demand for overseas goods and by expectations from Alibaba's extensive marketing campaign, which this year exploits virtual and augmented reality.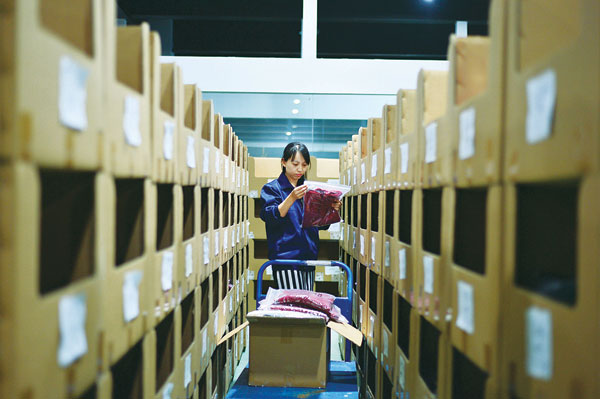 A worker inspects cashmere clothing at a factory in Hebei province before one of the year's busiest shopping days. [Photo by Chen Lei/Xinhua]
Alibaba will pilot Buy+, a VR headset that will allow shoppers to walk around simulations of brick-and-mortar stores in locations around the globe, simply nodding to confirm their purchase of items. Macy's flagship store in New York is among participating retailers.
British supermarket chain Sainsbury's used a virtual reality promotion tool on Alibaba's online store TMall in August this year. Sainsbury's reached top spot on TMall in terms of orders during the one-and-a-half hour 360-degree live broadcast of its supermarkets in London. The event was the second most popular promotion since Sainsbury's live broadcast of an afternoon tea party on the Queen's birthday.
Alibaba has also released a location-based augmented reality Pokémon Go-style mobile app ahead of Singles' Day. The company hopes to drive traffic from online stores to the physical stores of TMall merchants as users follow an animated mascot on their phones through real city streets. International brands taking part include KFC and Starbucks.
A number of British brands will offer discounts specific to Singles' Day this year. Coffee specialists Whittard of Chelsea, Liverpool Football Club, and pet food company Bob Martin will all offer Singles' Day discounts for the first time, according to a TMall representative. British brands returning with exclusive Singles' Day promotions include Jellycat, Cambridge Satchel, Myprotein and iconic fashion brand Burberry. Other major international brands joining for the first time include Target, Maserati, Apple, and Guerlain, while Zara, Bose, Samsung, Estee Lauder, L'Oreal, P&G, and Unilever are all set to come back. Returning clothing and sportswear brands Uniqlo, Nike, Adidas, and New Balance were among the most popular brands in 2015. International brands are made available through country-specific portals on the TMall website.
Several of Alibaba's Chinese ecommerce competitors are also making moves ahead of Singles' Day.
Dai Tian in London contributed to the story.