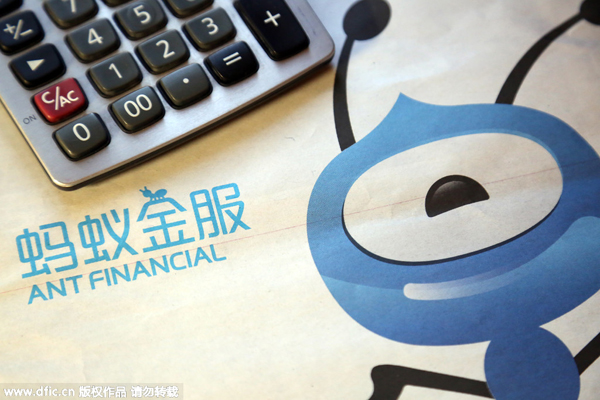 An advertisement for Ant Financial Services, an affiliate of Chinese e-commerce giant Alibaba Group, is pictured in Shanghai, October 16, 2014. [Photo/IC]
Ant Financial, the Chinese payments giant controlled by billionaire Jack Ma, expects this year's Singles Day shopping extravaganza on Nov 11 to top 2015's roughly $14 billion as domestic consumption remains resilient despite an economic slowdown.
The online financial services company expects to handle a record amount of sales, an annual 24-hour online shopping marathon pioneered by affiliate Alibaba Group Holding Ltd that's become a barometer for Chinese internet retail.
As the operator of leading payments service Alipay, Ant Financial plays a key role in the smooth exchange of the enormous sums of cash in play.
Alibaba and Ant have plenty riding on the event, which is closely watched by investors and a source of immense pride for both companies. It's also attracted some controversy: the US Securities and Exchange Commission has been looking at data reported from the promotion last year, Alibaba said in its annual report in May. Vice-Chairman Joseph Tsai has said the company is cooperating with the regulator, sharing facts in an investigation it had voluntarily disclosed.
"We have our partners and employees working around the clock in anticipation of 11/11 this year. We expect and we hope it to be even bigger than last year," said Douglas Feagin, the former Goldman Sachs investment banker who now heads Ant's international operations. "We have many more merchants and products and services available on the platforms, and I can tell you that many are in the advanced stages of planning."
China's largest online financial services company, known as Zhejiang Ant Small & Micro Financial Services Group Co, serves some 450 million users and competes with Tencent Holdings Ltd in online payments as well as internet services from dining to food delivery. Valued recently at $75 billion by CLSA Ltd, it's said to be exploring an initial public offering in Hong Kong as soon as in 2017.
"We see the benefits of being a public company but there is no timetable," Feagin told Bloomberg News before a media event in Shanghai.
Ant's now trying to replicate its local success overseas, especially in Asia. It wants to follow in the footsteps of the tens of millions of Chinese who venture abroad annually, enabling their dining, shopping and other needs on the road. Alipay is now accepted by more than 80,000 off-line retailers around the world, Feagin said. And late last month, it announced a deal to get the service accepted at 10 international airports from Munich to Tokyo and Seoul.
It's also on the prowl for acquisitions. Ant Financial and Primavera Capital Group are buying a stake in Yum! Brands Inc's Chinese operation for $460 million, a deal that gets its payments platform on KFC and Pizza Hut restaurants across the country. It already owns a slice of Paytm, one of India's largest digital transactions platforms. And it will soon get approval to complete its purchase of a 20 percent stake in Thailand's Ascend Money, Feagin said, a step toward becoming a larger player in Southeast Asia.
Growth in e-commerce at home, however, is straining Ant's network, which also hosts the country's largest money-market fund and a plethora of other financial services. Ant will keep investing in security and expanding its capacity, Feagin said. The company is also looking for overseas technology to get a leg up on Tencent, its fiercest rival in internet finance. For instance, it recently acquired EyeVerify Inc, a biometric authentication technology for securing consumers' online data and transactions.