Marathon man sets Bayer's pace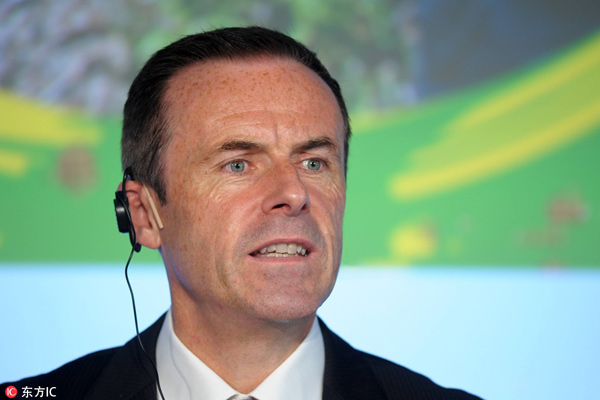 Liam Condon, head of the crop science division of German life science giant Bayer AG [Photo / IC]
Lessons learned in running help instill a spirit of success for top chemical company
Liam Condon knows what the long haul is like and how to plan for the road ahead. Condon, head of the crop science division of German life science giant Bayer AG, has run the Beijing marathon twice, and the spirit of long-distance running garnered over 25 years has helped the Mandarin-speaking executive to set the pace at work.
Condon hails from Ireland and is a Bayer veteran who can break into a number of foreign languages with consummate ease. Apart from English, he can speak German, Gaelic, French, Japanese and Mandarin, and has risen through the ranks over the past 10 years of his career at the company.
During the interview at a student lab at Bayer's headquarters in Leverkusen, Germany, Condon showed an amiable and natural, down-to-earth attitude and was sharply turned out in a dark suit and purple tie.
"It takes a long time to train for marathons, with many tough times. If you have a clear picture of the goal, you keep going, no matter what happens. Agriculture is a long-term industry and often it takes 10 years to develop a product. Even if we have a lot of quarterly financial pressures, we think about the long term," said Condon, who is also a member of the board of management at Bayer AG.
"For me, it helps a lot to have a kind of marathon spirit to think about the long term, and also be very disciplined, willing to make some sacrifices, manage the time and do the things effectively. Those habits help when running a company."
The German pharmaceuticals, chemicals and agricultural leader has been in the China market for more than 130 years. In recent years, the company has been continuously increasing its investments in China, and the country now serves as its largest market in Asia.
In the second quarter of this year, Bayer's crop science business posted global sales of 2.52 billion euros ($2.79 billion). In the Asia-Pacific region, its sales growth rate was 8.4 percent year-on-year in the quarter. The rosy performance in the China and Australia market helped offset flat global sales.
"China is one of our biggest and most important markets. We have a very strong pharmaceutical and consumer health business in China, and a relatively small crop science business," he said.
"We believe there is tremendous growth potential for our crop science business in China," he said, as the overall trend in China focused more on professionalization, bigger farms, food safety and the environment.
He said that China would like to ensure that the country can feed itself, and not be overly dependent on imports. So, Bayer, he added, will need to be in the forefront in innovation of agricultural products in China, and it is committed to continuing to invest in China.
After graduation, Condon began his career at German pharmaceutical company Schering AG, which was acquired by Bayer in 2006. He has held various sales and marketing positions in the gynecology business in Germany, before he took leadership positions in the company in China, Japan and Germany.
While working in China, Condon was instrumental in leading the integration of the Schering operations into the Bayer business in the country.
"From a combined sixth market position, we managed to get to the overall third position in the Chinese pharmaceutical market in only two years. During this time, we achieved an average annual growth rate in turnover of 40 percent," he said.
"We also developed the 'Go West' medical training program to promote training for medical professionals, and thus improve medical infrastructure in undeveloped rural areas in China."
In the next five years, Bayer has committed to invest at least 200 million euros in digital farming, where it utilizes satellite technologies and big data to help growers solve agricultural issues, for example, distinguishing weeds and the insecticide solutions, by uploading the photo of the weed on a phone app.
"Currently, we are selling and testing digital farming products in 10 countries, with the goal to rapidly expand further and develop a best-in-class crop protection digital support system," Condon said.
"We are committed to bringing digital farming products to China. It is important that these products are specific and relevant for the China market, and I believe that we will be able to bring the products to China in the course of 2018."
When working with staff members, Condon said he is very team-oriented and focuses on clear values. He is collaborative, but will never accept complacency.