Economy moving to low carbon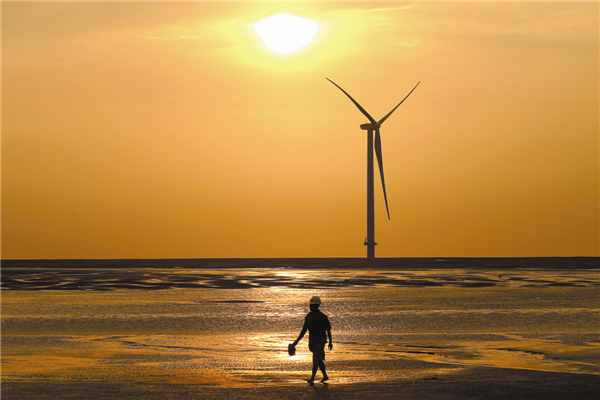 A wind farm at Rudong in Jiangsu province. [Photo by Xu Congjun / for China Daily]
Amount of emissions compared to GDP falls as country prepares to hit its pledged targets
China is expected to contribute more to help bridge the emission gap to achieve the Paris Agreement, after the United Nations warned the world is not yet on track to hit goals set in the pact that came into force on Friday.
"Although China remains the world's largest carbon emitter, the nation is making quick progress on transforming to low-carbon growth and is on track to fulfill its Paris pledges," said Zou Ji, deputy director of the National Center for Climate Change Strategy, noting that the growth in coal use has been much slower than the growth in the economy in recent years.
"China is expected to make more contributions in the future after economic growth shows a decoupling trend with coal usage," said Zou.
Carbon density has decreased from 2 kilograms of carbon emissions per dollar of GDP in 1980 to just under half a kilogram last year, according to the Brookings Tsinghua Center for Public Policy.
Zou's remarks came after the United Nations Environment Program warned in its annual emissions report that global efforts "are far from enough" to achieve the 2030 target to ensure that global temperatures do not rise more than 2 C above preindustrial levels - the level that countries reached agreement on in Paris.
The 12 to 14 gigatons needed to be cut before 2030, according to UNEP's estimation, led to concerns over whether enough efforts have been made by emerging economies, including China.
Zhou Dadi, a senior researcher at the China Energy Research Society, said that China has made sufficient efforts and strong pledges compared to other large emitters.
"What needs to be done in the next a couple of years for China, rather than further raising the targets, is to continue to put words into action," said Zhou.
Zhou was positive about China fulfilling its self-identified goals, expecting that the country is likely to hit peak emissions by the end of 2025, five years ahead of schedule.
Zou expected that with guaranteed assurances being made for developing countries such as China, developed countries are able to fulfill Paris pledges to deliver $100 billion in funding by the end of 2020.