Wanda wants part of 'Big Six' studios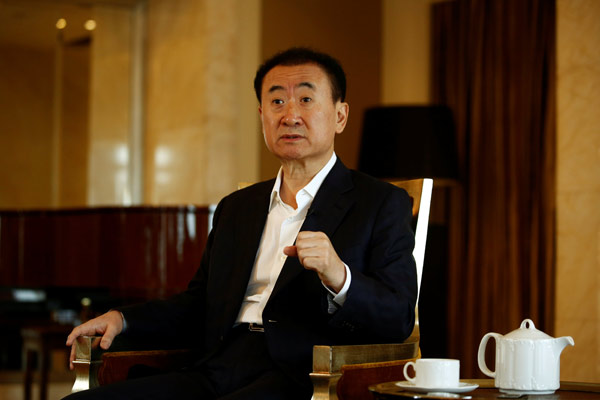 Wang Jianlin, chairman of the Wanda Group, speaks during an interview in Beijing,August 23, 2016. [Photo / Agencies]
China's richest man has his sights set on a big chunk of Glittertown. Now comes the hard part.
Wang Jianlin's announcement that Wanda will set up a multibillion-dollar investment fund to inject capital into Hollywood's "Big Six" studios will be a boon to the industry, despite recent headlines about the US government's concerns over the company's aggressive investment in Hollywood, industry insiders said.
"It certainly props up Hollywood. If you look at the history of Hollywood, it's propped up by equity investment from third parties, and without it we would be a dying industry, so that's great," said Schuyler Moore, partner of the corporate entertainment department at Stroock & Stroock & Lavan LLP.
"If somebody wants to come in and put in equity, it gives us another couple of years to figure out (who else will) come in and invest in Hollywood. It's part of the non-stop attraction of Hollywood," he said.
Wang, China's richest man and founder of Dalian Wanda Group, said that he would set up the investment fund as he looks to acquire one of them, which he has long expressed an interest in as part of Wanda's global entertainment strategy.
"I wanted to acquire one of the Big Six, but whether we can is a different story-it's uncertain," Wang said in an interview with The Hollywood Reporter from his company's Beijing headquarters.
"I might as well start from wherever I can, such as through investment with all six," he said. "We will continue to work on a potential acquisition. But it won't hurt to start by doing what we can. Participating via investment seems like a wise choice for the time being."
Moore said that it's unlikely any investment will trigger congressional oversight, despite a call to action from US Congress members late last September in a letter to the Government Accountability Office, because there have already been precedents of foreign third parties taking ownership of US studios, such as Matsushida Electric (now known as Panasonic) purchasing Universal Studios, and Sony purchasing Columbia Pictures.
"Nobody said 'boo'. I just don't think it's relevant. The fact that a couple of senators wrote a letter asking for [further action], the reason they wrote the letter is because they'll never, ever get action on the floor. I don't think it raises any security concerns so I don't think anyone will give a hoot," he said.
Christopher Spicer, a film-finance lawyer with Akin Gump Strauss Hauer & Feld LLP, said that a co-financing investment in various studios is nothing out of the ordinary, though if Wanda did end up owning a US studio, its investment in multiple players in the industry could be problematic down the line.