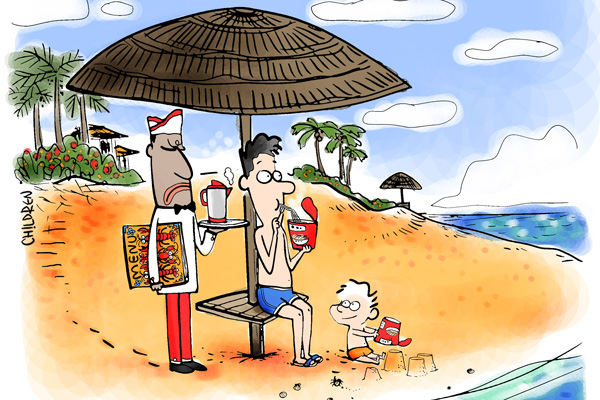 Provided to China Daily
Instant noodles, hitherto China's favorite fast food, may be under attack from alternative snacks, but Chinese outbound travelers remain loyal to them.
Tourists may splurge during their shopping sprees in Europe and the United States, but when it comes to eating, they prefer the time-tested instant noodles.
According to a Sept 28 report by Alitrip and wacai.com, more than 31 percent of the Chinese outbound tourists tucked instant noodle packs into their luggage.
Among those who didn't, more than 58 percent bought domestic noodle brands abroad at higher prices.
The report said for a five-day overseas trip, about half of the Chinese travelers are likely to carry three to five servings of instant noodles.
Alitrip's report notes some Chinese carry instant noodles even when their destinations are Southeast Asian countries, Japan and South Korea. There, they savor a range of flavors of local instant noodles, compare them with their own, and bring back a few they like.
That's to satisfy the cravings for the familiar and hot serving of instant noodles, complete with chilli sauce, ham, preserved pickle or mustard root, of the "Chinese tummy", which is not used to Western food.
Jiang Yiyi, director of the International Tourism Development Institute, under the China Tourism Academy, said the travelers' preference indicates scope for tailor-made Chinese food services at overseas tourist destinations. "Chinese travelers carry domestic instant noodles not to save money," said Jiang. "They need Chinese cuisine to balance the local food."
The habit was in evidence during the Oct 1-7 National Day holiday. Chinese outbound travelers numbered 1.4 million, up almost 12 percent year-on-year, according to the China National Tourism Administration.
Chinese tourists in their 40s rely on domestic noodles the most. Some 66 percent of them carry them; 54 percent of travelers in their 30s and 51 percent of those in their 20s also do, Alitrip said.
This seems to suggest younger Chinese outbound travelers may be more willing to try local cuisines than others, according to the report. Similarly, dating couples outnumber married couples with children. Some 61 percent of the latter still depend on instant noodles.
Travelers' income levels are not correlated to consumption of Chinese instant noodles while abroad: About 43 percent of those whose monthly income is over 20,000 yuan ($3,030) snack on the fast food, just as the same as section of those whose monthly income is below 5,000 yuan.