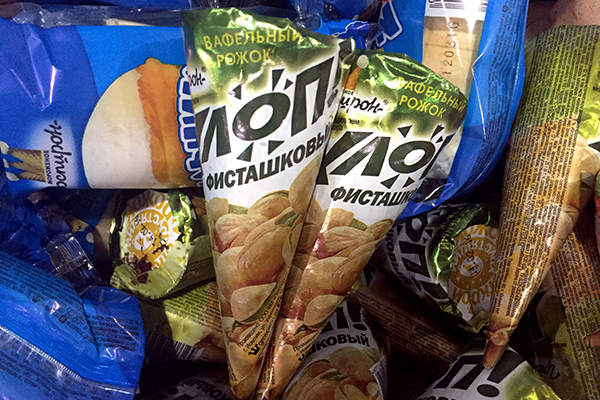 Russian ice cream sold in Harbin. [Photo/China Daily]
Chen Xiaochen, a 32-year-old resident of Harbin, bought an ice cream cone on Tuesday, even though daytime temperatures dropped to 7 C in the northeastern Chinese city.
The Russian-made ice cream she bought was only 10 yuan ($1.50), making it an affordable treat. "I particularly like Russian ice cream, as it has a flavorful milk taste, strictly selected raw materials without any additives, and it's reasonably priced," Chen said.
Before it was as widely available locally, she and her friends used to order boxes of ice cream from Russia and have it shipped to the city.
A Russian ice cream craze has taken off this year as trade between the countries got a major push, and Chinese consumers became more aware of products from their northern neighbor.
It got an even bigger boost when Russian President Vladimir Putin gave President Xi Jinping a gift of the frozen treat during the G20 Summit in Hangzhou on Sept 4 and 5.
After the summit, a lot more dealers made inquiries about importing Russian ice cream with the Entry-Exit Inspection and Quarantine Bureau of Manzhouli in Northeast China, where the city borders Russia.
While it's too soon to tabulate the precise effects of the presidential dessert diplomacy, the numbers have soared this year.
From January to August, the Chinese border port of Manzhouli imported 271.4 tons of Russian ice cream worth $863,000-an increase in volume of 267 percent and a surge in value of 1,388 percent, according to statistics from the bureau. The rise in value is attributed to a greater variety of imports, including higher-cost ice cream.
The ice cream generally is less expensive than many premium brands available in China. One package of Russian ice cream, weighing 100 grams, is typically priced at 10 yuan. A small cup of Haagen-Dazs ice cream weighing 81g is 33 yuan.
Yu Wei, general manager of Epinduo, which specializes in Russian products, said his company has bought 14 tons of Russian ice cream this year, including several leading brands such as President, White Polar Bear, and Soviet Union, and various flavors, including chocolate and vanilla. The company has seen sales grow rapidly, and has netted more than 200,000 yuan in sales revenues daily.
In the next three years, Epinduo plans to launch 300 stores nationwide, and expand the sales channels of Russian products. Together with its e-commerce platform, the dealer aims at cumulative revenues of 30 billion yuan in three years.
Because of its large volume, the ice cream that Epinduo imported was mainly transported by refrigerated trucks of private logistics company, since railway cold chain transportation technology is less developed.