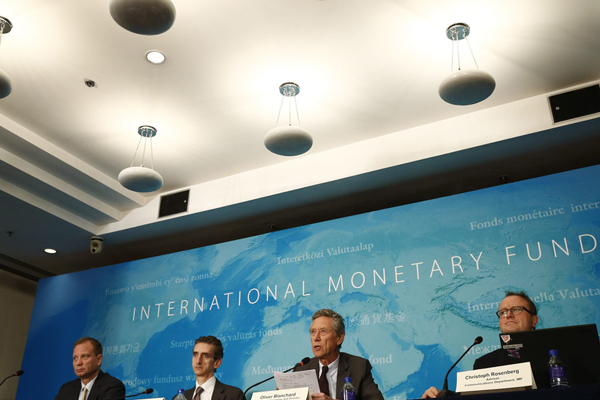 Alfred Schipke (L1),IMF Senior Resident Representative for China, speaks at a press conference on the IMF World Economic Outlook update in Beijing, China, 20 January 2015. [Photo/IC]

China needs to put more effort into resolving rising corporate debts in order to sustain growth in the medium to long run, a senior representative of the International Monetary Fund said on Monday.

"China truly stands out in implementing reform compared with other countries," said Alfred Schipke, the IMF's senior resident representative in China. "The nation's contribution to world economic growth is still extremely large."

Schipke said that "significant progress" has been made in rebalancing and reform, referring to progress made in policy adjustment at the top level. For example, reform of the Budget Law helps improve local governments' bond budget transparency. There have also been efforts to bridge the gap between the central and local governments.

The IMF holds an optimistic near-term outlook for the nation's economic growth, arguing that a hard landing is unlikely.

But, the rising debt issue is posing high risks for the nation in the longer term, especially since the nation now has an increasingly large, leveraged and interconnected financial system.

A recent report by the Bank for International Settlements, an international banking watchdog, showed that the credit-to-GDP gap, an indicator that measures the buildup of excessive credit, in China stood at 30.1 in the first quarter this year, by far the highest of all reporting countries.

The corporate debt load is estimated to be 145 percent of GDP, which is a somewhat dangerous level, according to the IMF.

Although it is still controllable, Schipke suggested that it is essential to identify the good, bad and the ugly debts, recognize losses and share the burden.

In the meantime, the nation should also provide fiscal assistance to help retrain and resettle unemployed workers to maintain social stability.

Huang Yiping, a central bank adviser, shared similar concerns over potential risks to medium-term to long-term growth posed by rising debts.

Although deleveraging has been listed among the top five tasks this year by the central government, the efforts made in dealing with debt issues have yet to achieve progress, according to Huang.

He said that the nation has somehow fallen into a so-called high leverage trap, where the effort to deal with long-term issues is stymied by the negative impact to growth brought by short-term adjustment.

Huang said that is not too late to control the debt level, but it is urgent for government to press ahead with reform and with the restructuring of loss-making companies, allowing mergers and acquisitions based on market principles.