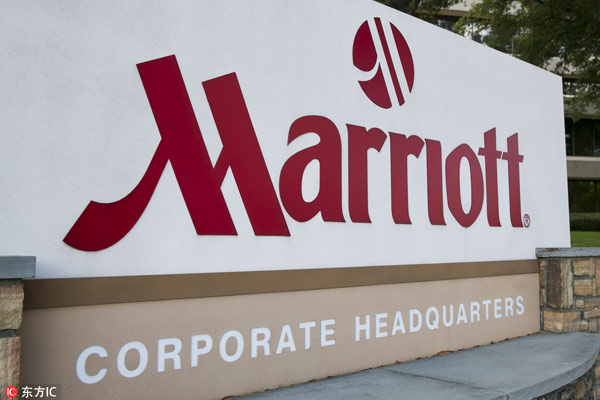 A logo sign outside of the headquarters of Marriott International, Inc, in Bethesda, Maryland on Oct 18, 2015. [Photo/IC]
Marriott International Inc - the newly-merged company that is the world's biggest hotel group - plans to double its presence in China, the firm announced on Friday.
The Maryland-based group announced the same day its completion of the acquisition of Starwood Hotels & Resorts Worldwide Inc, following approval from the Chinese Ministry of Commerce on Sept 20.
Marriott International now operates a total of 260 properties in China, with another 300 in the pipeline. Research firm Euromonitor International estimated that it enjoys a leading market share of 4.1 percent in the Chinese market, followed by Homeinns Hotel & Management at 4 percent and China Lodging Group at 3.9 percent.
The group expected its projected doubling of presence would further foster its leading position in China.
Globally, the company has more than 5,700 properties under 30 brands in over 110 countries. Only 16 brands have been introduced to China in the past three decades since the two companies entered China, leaving ample space for further and faster growth, according to the management.
"China is the world second-largest economy. But when you compare the number of hotels in big cities here with that in the US or Europe, it's actually minimal," said Henry Lee, chief operations officer of Marriott International's Greater China region.
"When people look at the Chinese economy, they say it's slowing down from double digit growth to single. But many countries would still love to have kind of five-or-six-percent growth," he said.
A key focus for the merged group in China will be the leisure tourism market, boosted by the burgeoning middle class, the world's biggest and numbered at 109 million people in 2015 by Credit Suisse estimate.
"There are more than 170 cities with populations more than 1 million in China. We will keep looking for opportunities there while continuing to grow in the gateway cities," said Stephen Ho, chief executive officer of Marriott International.
The two groups previously said that the merger could help the duo make up for each other's deficiencies. Ho, formerly the President of Starwood's Asia Pacific region, noted that while Starwood was more about being innovative, Marriott's reputable consistency was admirable.
"We are not only looking at the inbound market, but also an equally important outbound market," said Ho.