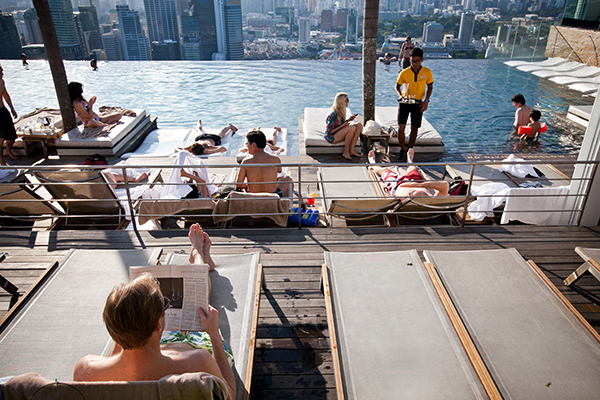 Tourists at the Infinity Pool on Marina Bay Sands' skypark in Singapore. [Photo/Agencies]
An influx of tourists to Singapore this year has brought little joy to the city's hoteliers, as a glut of rooms sends a key revenue measure to a six-year low.
Revenue per available room, a metric used by the hotel industry, slumped 7.4 percent in June to S$179.40 ($132) a night, the lowest since 2010, according to data from the Singapore Tourism Board. Even as tourist arrivals have risen each month this year, room rates have fallen because of shorter trips by visitors and a 5 percent increase in the number of hotel rooms.
There's no relief in sight. Of the 2,866 hotel rooms slated for addition this year, about two-thirds were expected to open in the second half, according to UOB Kay Hian. Marriott International Inc and the owner of the Holiday Inn Express chain are among operators that have planned new hotels in Singapore this year or already opened them.
"The high supply of new hotel rooms will be a headwind for room rates," Macquarie Group analysts Ken Ang and Tuck Yin Soong said in a note to clients. "While visitor arrivals have increased, average length of stay is falling, including from a higher proportion of day visitors," said the analysts, who have a negative rating on hotel stocks.
Chinese visitors, the largest group of tourists to Singapore, posted a 53 percent increase in June from a year earlier, the tourism board data showed. However, many price-conscious tourists are stopping over before crossing into Johor Bahru in Malaysia, which is about a 30-minute drive from the city center, according to Derek Chang, an analyst at UOB Kay Hian in Singapore.
"Chinese tourists are coming in from secondary cities in China and they are more budget-conscious," Chang said.
A pullback by Chinese visitors has also hurt hotels in Hong Kong. Average room rates in Hong Kong were down 9.2 percent to HK$1,337 ($172) last year, according to the Hong Kong Tourism Board. In Tokyo, a popular destination for Chinese tourists but which has a shortage of hotels, average daily room rates last year rose 9.4 percent to 18,225 yen ($176), data from Savills showed.
The glut of rooms is hurting Singapore hotel operators. Shares of Hotel Properties Ltd, which owns the Four Seasons, Hilton and Concorde hotels in Singapore, have fallen 10 percent this year, compared to a 1.1-percent drop in the benchmark Straits Times Index. Global Premium Hotels Ltd, which runs a chain of budget hotels, has dropped 12 percent.
An outbreak of the Zika virus may further dissuade tourists. More than 240 cases of the mosquito-borne virus have been detected since the city's first case was identified last month.
When Singapore was hit by SARS in 2003, visitor arrivals plunged 70 percent in the first three months of the pandemic, sending hotel occupancy plunging more than 40 percent, UOB Kay Hian said.
Bloomberg