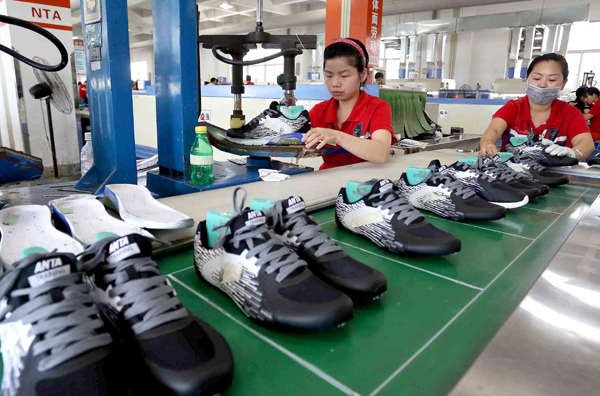 Workers produce sneakers at an Anta Sports Products Ltd plant in Jinjiang, Fujian province. Provided to China Daily
Anta Sports Products Ltd, China's largest athletics apparel company, said it is seeking to buy international sportswear brands as the country's growing middle class becomes more health-conscious and physically active.
The company is looking for brands with "history" to complement its own offering, Chief Financial Officer Jim Lam said in an interview in Hong Kong on Monday. "Anta's brand is famous enough in China's mass market, so we are more interested in acquiring higher-end brands."
China's sportswear industry is seeing a boom even as the economy slows as more Chinese engage in sports. Anta, which has a market value of about HK$49 billion ($6.3 billion), formed a joint venture with Descente Ltd and Itochu Corp earlier this year to design and sell Descente-branded items in China.
Anta is expected "to maintain solid growth momentum" after its results beat estimates, ICBC International Research Ltd analyst Yixin Luo wrote in a note on Tuesday. The analyst maintained a "buy" recommendation and raised the stock's price target to HK$21.30 from HK$20.80.
The shares rose as much as 8.3 percent to HK$21.20 in Hong Kong trading on Tuesday, reaching the highest level since April. The benchmark Hang Seng Index rose 1 percent.
Anta acquired the rights to the nearly century-old premium sportswear brand Fila in 2009, and sales from those products have grown more than 30 percent each year, Lam said. The company plans to open five to 10 Descente stores by the end of the year, and another 40 to 50 in China in 2017, he added.
The acquired brands are expected to contribute more than 30 percent of Anta's total sales by 2020, Chairman and Chief Executive Officer Ding Shizhong said during a post-result briefing on Monday.
Anta reported first-half profit increased 17 percent to 1.13 billion yuan ($170 million), exceeding analysts' expectations of 1.11 billion yuan. Sales increased almost 20 percent.
Anta, the company's self-owned brand, will continue to focus on the lower-priced segment since more than 90 percent of the company's revenue comes from consumers living outside of major Chinese cities, Lam said.
Bloomberg