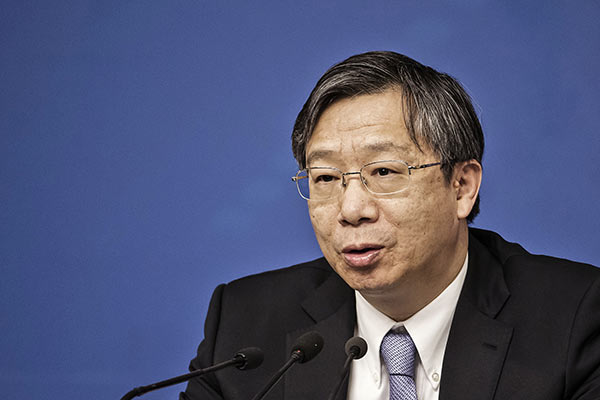 Yi Gang, vice-governor of the People's Bank of China (PBOC), speaks during a news conference on the sidelines of the fourth session of the 12th National People's Congress (NPC) in Beijing, March 12, 2016.[Photo/VCG]
A central bank official on Friday called for wider use of digital technology in order to promote inclusive finance among low-income groups, while building a proper legal framework to reduce online financial risks.
Yi Gang, vice-governor of the People's Bank of China, said at a forum in Beijing that digital technology could help low-income and disadvantaged people quickly access financial services at low costs, which is in line with what inclusive finance was about.
"But it is also of considerable importance to balance the benefits and risks in financial innovation. More efforts are needed to build a proper legal frame to help regulate the expanding internet finance industry," Yi said.
His comments came ahead of the upcoming G20 Summit, which is to be held in Hang zhou, capital of Zhejiang province, from Sept 4 to Sept 5.
At the summit, China will propose a set of principles to help expand inclusive finance, and participants will also discuss how to promote green financing in detail, Yi said.
Internet finance is growing rapidly in China, with internet heavyweights such as Alibaba Group Holding Ltd and Tencent Holdings Ltd - as well as traditional financial institutions - all eyeing the sector for growth.
In 2015, the third-party mobile payment market in China exceeded 16 trillion yuan ($2.4 trillion), marking a year-on-year rise of 100 percent, data from Beijing-based internet consultancy Analysys showed.
According to Yi, Alipay, the mobile payment tool run by Alibaba's financial affiliate Ant Financial, is an example of how technology can help more people access affordable financial services.
"Alipay has more than 400 million users, and it considerably lowers the cost of handling each payment transaction," he said. More importantly, about 150 million of Alipay's users are from rural areas.
With the rapid adoption of the internet, more Chinese consumers can now enjoy a wide range of financial services online, from loan applications, to buying insurance or buying shares.
Meng Jing contributed to this story.