Shares of China Vanke Co, the country's largest residential developer, plunged by the 10 percent daily limit on Monday in a sign of investors' disappointment amid the ongoing battle for control of the company.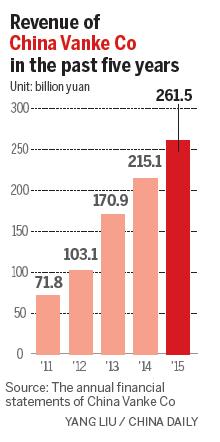 Analysts said the share dumping by investors was "within expectation". They said it could highlight investors' concern over the developer's future operation after its largest shareholder, Baoneng Group, a privately held insurer, threatened to oust the entire management team, which is led by founder and famed entrepreneur Wang Shi.
Vanke's stock tumbled by the 10 percent daily trading limit to close at 21.99 yuan ($3.3) after it resumed trading following a six-month suspension.
The battle for control of Vanke started last year after Baoneng and its affiliates became the developer's largest shareholder. They did so by aggressively building up their stake in Vanke through the public market in what Wang, who is Vanke's chairman, called a hostile takeover bid. Wang also described Yao Zhenhua, the head of Baoneng, as a barbarian intruder of Vanke.
Liu Junhai, a professor of civil and commercial law at Renmin University of China, said the clash between Vanke's management team and its major shareholders can provide a reference point for future corporate governance of Chinese listed companies. Listed companies can also draw lessons from the case, Liu added.
While the likelihood of a management shuffle would be slim, whoever wins control of Vanke should uphold the interests of its shareholders, both large and small, Liu said.
The plunge came after Baoneng, which owns 24 percent of shares, and State-owned China Resources, the second-largest shareholder with 16 percent of shares, attempted to block a restructuring plan worth about $6.9 billion with Shenzhen Metro Group. The plan would significantly dilute their holdings.
Xia Lei, a property analyst at Founder Securities Co, said that Monday's decline is more about a technical correction and release of risks accumulated during the long period of trading suspension amid asset restructuring.
Vanke's Hong Kong-listed shares have tumbled by 36 percent this year, despite rallying by 6.71 percent on Monday.
The shareholder clash within Vanke has also drawn attention from the country's securities regulator.
The China Securities Regulatory Commission said last week that it has been closely following developments in the case. All parties involved must abide by the Corporate Law and related regulations, it said.