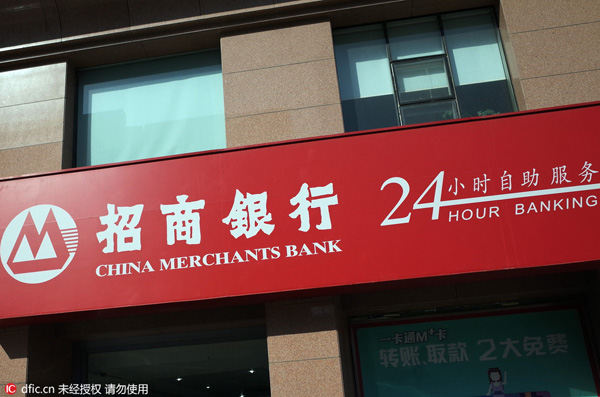 A branch of China Merchants Bank in Jinan, capital of East China's Shandong province, Feb 20, 2016. [Photo/IC]
Bank sees significant market-driven demand to serve Chinese investment internationally
China Merchants Bank Co became the first of the country's joint-stock commercial banks to open a branch in London on Thursday, highlighting significant market-driven demand for financial services providers to expand internationally to serve increasing Chinese investment abroad.
The Shenzhen-based CMB, established in 1987, is China's sixth-biggest, and the world's 16th largest bank.
CMB first established a presence in the United Kingdom capital in 2009 with a representative office. With the launch of a full branch, CMB will be offering a range of wholesale banking businesses serving corporate clients, including deposits, financing and currency clearing.
President and CEO Tian Huiyu said the establishment of the bank's London branch was a vote of confidence for London's strength as a leading global financial center.
Tian added that the move was also an integral part of the bank's overseas growth strategy.
"With Sino-UK relations entering a golden era, and bilateral investment continuing to grow, London's position as the second-biggest offshore renminbi center is consolidating," Tian said.
"More and more Chinese companies are investing in the UK, and the establishment of the branch in London allows us to provide financial services to those companies following a global strategy," the CEO added.
CMB London branch's opening follows in the footsteps of three Chinese banks with branches in the city - Bank of China Ltd, China Construction Bank Corp and Industrial and Commercial Bank of China Ltd. Agricultural Bank of China Ltd and Bank of Communications Co also have subsidiaries in London.
China's ambassador to the UK, Liu Xiaoming, said the steady stream of his country's banks coming to London was a clear indication that Chinese banks are now going global, and is also evidence of very strong China-UK cooperation.
Liu said the new branch was also significant as it is the first one set up by a Chinese joint-stock bank in London.
CMB is one of the many success stories of China's market-oriented reform and opening up, which started more than 30 years ago, said Liu.
"The success of CMB today is a reflection of China's endeavor to build a market-oriented economy and this is the best answer to some European politicians who still doubt China's market economy status," he added.
CMB was founded when China's financial market was undergoing market-oriented reform and opening up. Previously, China's banking sector was dominated by the big four State-owned banks. But regulatory changes in the 1980s allowed the establishment of joint-stock commercial banks, and CMB became one of the first.
CMB's majority shareholder is the State-owned enterprise China Merchants Group. The bank became a public company listed on the Shanghai and Hong Kong stock exchanges in 2002 and 2006, respectively.
In addition to London, CMB also has overseas branches in New York, Luxembourg and Singapore. Its total assets amounted to 5.47 trillion yuan ($830 billion) as of December 2015.