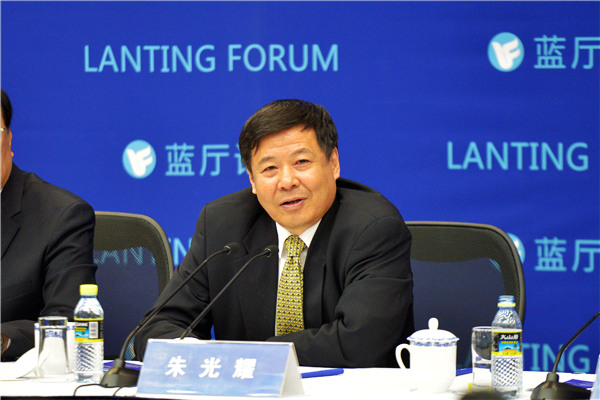 Vice Minister of Finance Zhu Guangyao speaks at the Lanting Forum on June 2, 2016. [Photo/Xinhua]
Officials and economists attending the Lanting Forum at the Foreign Ministry on Thursday called for the US Federal Reserve to better communicate with the international community on monetary policies.
"The Fed has the right to decide its monetary policy stance," said Zhu Guangyao, vice-minister of finance, "but we would welcome the Fed strengthening its policy communications with China and the international financial markets".
He called for more consultations between China and the United States on key economic issues, such as trade. The two countries "should have a robust exchange of ideas and make progress on key trade matters when the global economy is recovering slowly", he said.
Zhu added that he expected open discussions at the eighth Strategic and Economic Dialogue, which will start on Monday, on key challenges facing the two nations.
He said the high-profile meeting will provide opportunities to discuss macroeconomic policies, trade, investment and financial reform, and to address such challenges as market accessibility and creation of a better business environment for enterprises of both countries.
Zhu said China's economic spillovers to other economies also point to the need to increase communications with other countries on topics such as the exchange rate policy.
While addressing the recent yuan depreciation amid an expected Fed interest rate increase, Zhu said China, like other major economies, opposes any competitive currency depreciation. He added that the volatility of the yuan may not last long, since "economic fundamentals have not changed".
Lu Feng, an economics professor at Peking University, also underlined the need to enhance communication and act against protectionism in steel disputes between the two countries, after the US decided last week to impose punitive tariffs on steel imports from China.
The Lanting Forum, initiated by the Ministry of Foreign Affairs, is a platform for communication and exchanges between government, the business community, academia, media and the public.