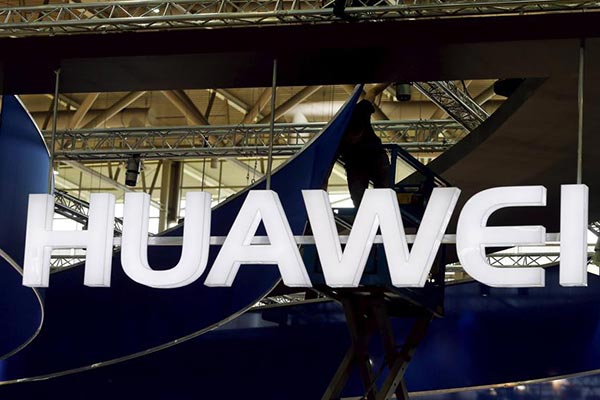 A worker adjusts the logo at the stand of Huawei at the CeBIT trade fair in Hanover, March 15, 2015.[Photo/Agencies]
MADRID - Chinese telecommunication giant Huawei here on Monday presented its ongoing project the Huawei ICT Road Show 2016.
The road show is a demonstration center under the title "Open ROADS to a Better Connected World", which will travel through nine European countries over the coming three months, allowing Huawei to show off its latest technology such as the Internet of Things (IoT), Software Defined Networks (SDN), data centers, and 4K video.
The road show opens in Spain to mark the 15th anniversary of Huawei starting operations in the country. In a speech at the inauguration of the event, Tony Jin Yong, the CEO of Huawei Espana commented that the company was "once again showing its firm promise to promote the development of the digital economy."
"We should not wait for the future to arrive, we have to work together to create it and we have to work together to increase connectivity, build new business models and work in the areas of user experience, which we, at Huawei, have identified as the motor of the digital transformation of the industry," he said.
The coming week will see Huawei demonstrate five initiatives which it believes will create new opportunities in the telecommunications sector, while speeding up its digital transformation. These are omnipresent video, the impulse of IT technology, agile practices, elastic architecture and ubiquitous cable.
In order to do this, Huawei has designed two "demo trucks", the first of which shows off the companies services, such as data services, cloud and digital services, while the second showcases solutions such as elastic architecture and ubiquitous cable.
The ICT road show will remain in Madrid for a week before moving to Barcelona on May 30.