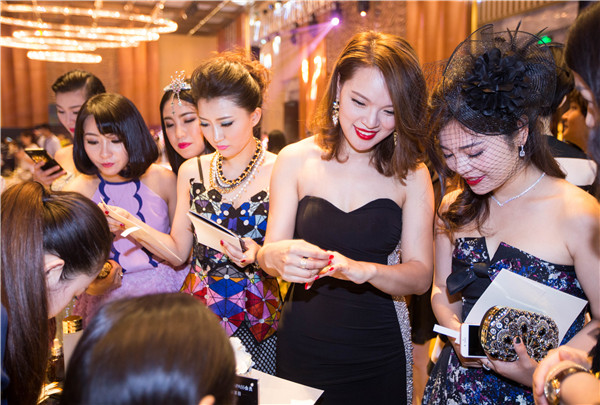 Female buyers on Alibaba platforms take part in a party, which was organized by the country's largest e-commerce service provider last week in Shanghai. They spend up to 800,000 yuan ($120,120) each annually on healthcare and tourism products via Alibaba.CHINA DAILY
Services-related online consumption in China saw a surge in the past five years, said a report jointly released by the China Academy of New Supply-side Economics and Ant Financial, the financial arm of Alibaba Group Holding Ltd.
This year, the value of services-related online consumption accounts for 25 percent of the total. Back to 2011, it only took up 4.3 percent of the total, according to the report, which collected data from 450 million Chinese online consumers.
Over the past five years, people have bought increasingly more stuff online and get their services through online payments.
For instance, more people choose to book taxis by taxi-hailing apps, and book meals and film tickets online. Besides, they make online appointments for workout training and educational courses.
The scale of services-related online consumption has soared 70 times in the past five-year period, and the average monthly growth rate reached 7 percent.
The scale of total online consumption had a 12-fold increase.
Sectors including catering, air traveling, education and lifestyle services have witnessed tremendous business growth.
They saw an annual increase of more than 70 percent, and those companies have become new engines that are driving national consumption.
"The information indicated a lot of directions for investments, in terms of investment sectors, products and hot spots," said Hu Yifan, an economist from UBS AG.
He said that from a macro point of view, it showed that the strong online consumption had become a "dark horse" in the picture of overall consumption, and it would contribute to further growth in consumption.
When it comes to areas, Beijing, Shanghai and provinces of Zhejiang, Jiangsu and Guangdong have topped the list, with what is called the highest enjoyment type consumption.
These include the spending on cosmetics, jewelry and sports and entertainments, indicating that the more developed the city or region is, the higher level of services-related consumption they have achieved.
On the other hand, the number of consumers from third- and fourth-tiered cities and rural areas, has shown a steady increase.
Last year, 63 percent of online consumers came from third- and fourth-tiered cities, rising from 55 percent in 2011.
Meanwhile, figures show men spend more on enjoyment-type consumption than women.
For instance, men shell out more money on catering, culture and educational services, healthcare, sports and entertainment, cars and air traveling.