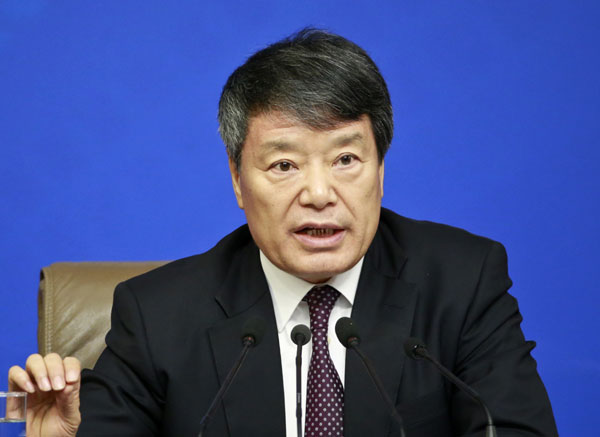 Xu Shaoshi, head the National Development and Reform Commission, gives a press conference for the fourth session of China's 12th National People's Congress (NPC) on the country's economic and social development and the draft outline of the 13th Five-Year Plan in Beijing, March 6, 2016.[Feng Yongbin/China Daily]
The Chinese economy "faces relatively serious risks and challenges" but remains healthy, and policymakers have ample policy options at hand to cope with the "complicated situation" this year, said Xu Shaoshi, head of the National Development and Reform Commission, the top economic planning body, on Sunday.
"We should not use traditional and old methods to look at the Chinese economy," Xu said, referring to the downgrading of China's government credit ratings by the international rating agency Moody's on March 2. While its economic growth rate remains fast at 6.9 percent year-on-year in 2015, China's economic structure and quality have improved significantly, he said.
A total of 13.12 million new jobs were created in 2015, exceeding the target of 10 million. People's incomes increased by 7.4 percent, faster than the GDP growth. Also, the growth of consumer inflation remained at a moderate 1.4 percent.
Moreover, China's consumption has contributed to 66.4 percent to GDP growth, signaling the headway China has made in making growth more consumption-driven and sustainable. The services industry has contributed to more than half of GDP growth, meaning the economic structure has become more balanced and rational, he said.
"The growth trend remains sound," he said.
Although the Chinese economy faces severe challenges this year, policymakers have ample policy options to handle the complicated situation, Xu said. "We will accelerate the supply-side reforms while moderately increasing domestic demand."