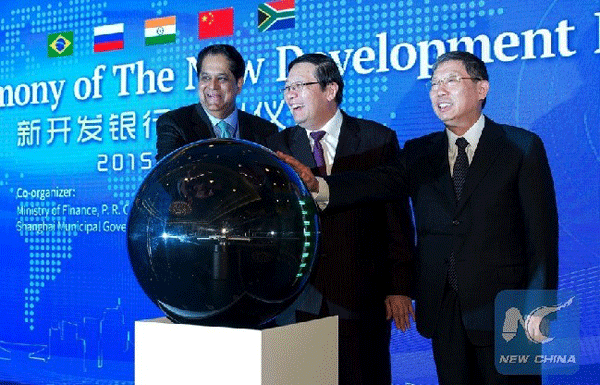 Chinese Finance Minister Lou Jiwei (C), Shanghai Mayor Yang Xiong (R) and President of the New Development Bank (NDB) of BRICS K.V. Kamath attend the launching ceremony of the bank in Shanghai, July 21, 2015. The New Development Bank (NDB) of BRICS opened in Shanghai on Tuesday to finance infrastructure projects, mainly in BRICS members. [Photo/Xinhua]
BEIJING -- Despite the current difficulties of BRICS economies, their economic fundamentals remain unchanged and better cooperation will help them tackle global challenges, said Chinese Vice Finance Minister Zhu Guangyao.
In an article in Monday's "Economic Daily," Zhu acknowledged that downward pressure on the global economy and fluctuating capital flows are negatively affecting the bloc of Brazil, Russia, India, China and South Africa.
However, these nations will not lose their appeal, Zhu pointed out, citing a string of factors including economic scale and cooperation within the bloc.
"Emerging economies, especially BRICS, represent the upward power on the global stage," he wrote.
BRICS accounts for over 20 percent of the global economy, and the share is expected to reach 25 percent by 2020, he noted. The bloc is also home to over 40 percent of the world's people.
As a consumer and supplier, the bloc will continue its positive role and make bigger contribution to global growth, Zhu said.
In addition, better economic, financial, cultural and political cooperation will promote the integrated development of the countries, he added.
For China, economic reform and opening-up will ensure healthy and sustainable growth goals for the 2016-2020 period, Zhu said.
China's economy grew by 6.9 percent year on year in 2015, its lowest annual expansion in a quarter of a century.
The World Bank last month cut its global growth forecast for 2016 to 2.9 percent, 0.4 percentage points lower than its forecast in June 2015.
In 2016, the global growth, the emerging market growth in particular, will depend on continued momentum in high income countries, the stabilization of commodity prices, and China's gradual transition toward a more consumption and services-based growth model, the bank noted.