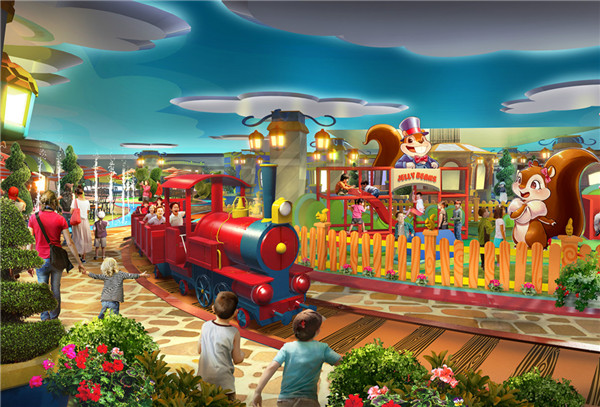 An artist's impression of the SongSong Town designed by Thinkwell. It opened for business in May last year in Harbin, Heilongjiang province.Provided to CHINA DAILY 
Journey to the West, the Chinese classical novel whose main character Monkey King is legendary, started in ancient China as an oral tradition, told between families. Then, it was written down that became five of the greatest books of Chinese literature. Based on them, operas and stage plays followed. In the modern era, animated series and toys joined them.
And, in the coming Chinese Year of the Monkey, efforts to set up a Monkey King theme park in Beijing will gain momentum, thanks to Thinkwell Group, a Los Angeles, California-based firm specializing in design and production of ventures like theme parks.
The Monkey King theme park story goes back to 2010, when Zhonghong Holdings, a Beijing-based real estate developer, approached the Asia unit of Thinkwell Group.
Kelly Ryner, president of Thinkwell Asia, said the company is helping Zhonghong Holdings to develop its own intellectual property related to Monkey King.
"They (Zhonghong Holdings) took a risk by hiring an international company (Thinkwell) as Monkey King is such a beloved Chinese story and character," Ryner said.
The seriousness with which Thinkwell takes this project is evident at its new office in the Central Business District of Beijing. Piles of drawings of Monkey King character lie on the desks of its creative team. The drawings are but a part of what has been developed so far.
Thinkwell has dived very deep into history. So much so, its American staff appear to know more about the Chinese story than Ryner's Chinese friends. The theme park itself may open in 2019.
As one of the industry majors, Thinkwell has worked with the world's leading studios and companies in developing intellectual property, brands, museums, exhibits, live shows, events, theme parks and resorts.
Its projects include The Making of Harry Potter at Leavesden Studios in London, where visitors get a behind-the-scenes account through the film's authentic icons, and the snow park Ski Dubai in the United Arab Emirates.
Thinkwell employs 200 in the United States. It entered China in 2014 by setting up an office in Beijing that now has 33 people. Its staff will increase to 50 by March and 65 by the end of summer this year. "It won't be long before we start doing work here for the Middle East," said Ryner.
The company's other overseas office in Dubai works to meet the expected demand for entertainment during the 2020 World Expo.
Theme parks and entertainment centers in China have immense scope as people are in the mood to have rich lifestyle experiences, and willing to consume amusement as a product, given the popularity of historical Chinese films and the coming 2022 Winter Olympic Games to be held in Zhangjiakou, said Thinkwell executives.
"People need things to do, families want to spend time together and have high-quality experiences," said Randy Ewing, vice-president of design at Thinkwell. "But people have less free time than in the past. So, they want to spend it well. Theme parks can help them do that."
Agreed Ryner: "We are not trying to duplicate, we want to localize, creating content that is appealing to Chinese public. We want to give international flavor to our offerings here in China so that even tourists coming to China will find them interesting."
The upcoming Shanghai Disney resort would raise people's expectations. So more developers will likely hire firms such as Thinkwell, said Ewing, who has designed 20 theme parks and museums.
"We are not trying to insert foreign ideas into Chinese products. With local stories (such as Journey to the West), we want to create unique Chinese products," Ewing said. "The world is interested in local stories. A character like Monkey King can hold fascination for people all over the world. By helping developers to have unique intellectual property, we can help export the Monkey King story and such to other parts of the world."
The key lies in balancing a local story with foreign ideas. "You have to keep in mind who is your audience and how to tell the story to make it entertaining. To take that original idea and find what is best about that, creating interesting characters and actions, then repackaging them into a format that audiences would find engaging... that is what we do," said Paul Redding, vice-president of Thinkwell Asia.
China has a rich history and many great stories. Thinkwell is ready to use its creativity to bring alive such stories, said Redding. "It doesn't need to be an old story. We can create a story based on a theme, and create intellectual property, brands, commercially viable franchises around it, and expand them to markets where they didn't exist before."
For instance, SongSong town, a squirrel-themed activity park in Harbin of Northeast China, features a theater for live performances, a forest, a Tiki Beach-like play zone and activities housed in village shops and stores. The indoor attractions have brought 30 percent more traffic since it opened to business.
Thinkwell believes that a theme park, to be successful, does not have to have the fastest ride or the biggest space.
"When you build the fastest, tallest rides and put all your value into this, within years, someone will build faster rides. All your design and creations will be gone in a short time," said Redding.
wangzhuoqiong@chinadaily.com.cn