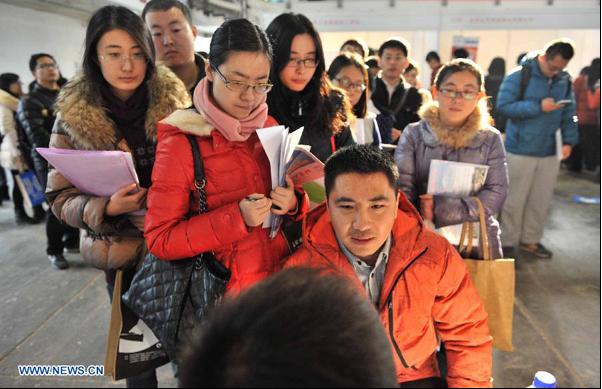 A job seeker receives interview at a job fair for postgraduates in Beijing, capital of China, Dec 18, 2014. About 18,000 opportunities were offered at the fair. [Photo/Xinhua]
BEIJING - Employment held steady last year despite the economic slowdown and there were no large-scale layoffs although certain sectors did cut jobs, a human resources official said Friday.
The registered unemployment rate in China's cities was 4.05 percent at the end of 2015, unchanged from three months earlier, official data showed Friday.
China created 13.12 million new jobs for urban residents last year, exceeding the official target, Li Zhong, spokesperson for the Ministry of Human Resources and Social Security, told a press conference.
The government wanted to create at least 10 million new jobs and hold the unemployment rate below 4.5 percent in 2015.
"The job market remains stable overall," Li said.
China's economy recorded the slowest growth in 25 years in 2015, expanding 6.9 percent year on year, fueling concerns over job losses, especially in industries with excessive capacity.
Li acknowledged there would be increased job reductions in some industries and companies due to greater downward pressure and structural adjustment in the economy.
However, "job cuts will be limited to certain regions and sectors and no large-scale layoffs are expected," Li told reporters.
He said the job market looked set to be generally stable this year, citing favorable factors such as sound economic fundamentals, advanced reform measures, innovation, and stronger government support for employment.