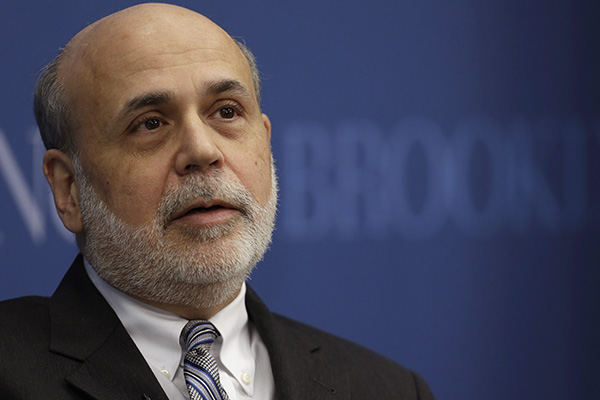 Ben Bernanke participates in a discussion at the Brookings Institution in Washington on January 16, 2014. [Photo/Agencies]
Ben S. Bernanke, former chairman of the US Federal Reserve, said on Tuesday that most of the US dollar appreciation may have already occurred and people may not see much more.
He told the Asian Financial Forum in Hong Kong: "The dollar has already strengthened a lot, given the expectations that the Fed was going to raise (interest) rates. So going forward, the dollar is not going to automatically get stronger when the Fed raises the rates, but depends on whether the Fed raises the rates more quickly or less quickly than the markets expect".
He estimated that there is a decent chance that if things happen along the lines that the markets expect, people may not see much more appreciation of the US dollar, which may already happen. On the other hand, if the US economy is stronger than expected and the US Federal Reserve would be able to raise interest rates more quickly, people will get a stronger dollar.
Addressing investors' concerns about the renminbi exchange rate against US dollar, he said it depends less on market forces than on the strategy of the People's Bank of China.
"It's going to depend on what the PBOC decides to respond to how the market evolves," he said adding that if the PBOC wants to tie the renminbi to a basket of currencies, it might be useful to say that.
He emphasized that it is important for central banks and other policymakers to be accountable to explain to the government and the public about not only what they are doing, but also what they are trying to achieve and what their methods are.
"If you're clear about what your objectives are and what your strategy is, the markets will have more confidence and will respond with less volatility and help you achieve objectives," he said.
In his opinion, central banks have not had much transparency and clarity about exactly what is happening in some cases of the volatility occurring lately.
Speaking of China's liberalization of capital markets, he said it is important for the country to have the institutional and legal framework before making the move.
"There is a sense in which you have to have the institutional, legal, accounting and financial infrastructure before you can go fully into highly liberalized market structures, and China has been cautious. The question is whether you go faster or slower," he said.
As to the slowdown of the Chinese economy, he said China could not grow at 10 percent forever, as it gets bigger and more mature. Instead, the country is making two critical transitions at the same time.
One is going from an export, investment-led economy to a consumer-led economy. China traditionally has a very high savings rate but now, it would actually be better to bring the savings rate down to increase household spending and improve the social safety net.
The other big transition is in the composition of output from construction, manufacturing, export-oriented goods to services, retail, finance and high technologies. Inevitably, it will mean slower GDP growth and particularly slower growth in the sectors which are facing other countries. However, Bernanke said it is something that has to happen if China continues to grow.
"Progress has been made on both those fronts. My prediction is that we'll continue to see a gradual slowing in Chinese growth, of which the composition would be shifting away from export-led heavy industry sectors to services," he said.