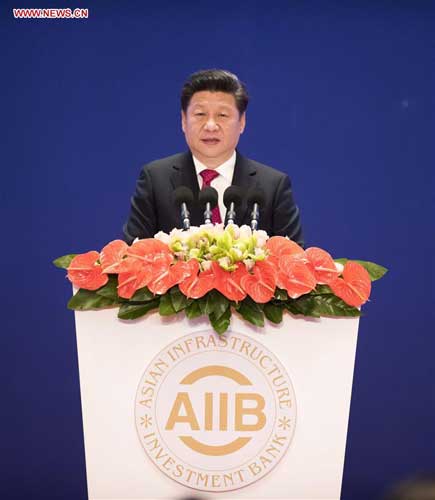 Chinese President Xi Jinping addresses the opening ceremony of the Asian Infrastructure Investment Bank (AIIB) in Beijing, capital of China, Jan. 16, 2016. [Photo/Xinhua]
BEIJING -- The Asian Infrastructure Investment Bank (AIIB), a China-initiated multilateral bank, started operational on Saturday, marking a milestone in the reform of global economic governance system.
Representatives of the 57 founding countries gathered in Beijing for the AIIB opening ceremony in Diaoyutai State Guesthouse. Chinese President Xi Jinping made a speech.
With joint efforts of all the members, the AIIB will become "a professional, efficient and clean development bank for the 21st century" and "a new platform to help foster a community of shared future for mankind, to make new contribution to prosperity of Asia and beyond and lend new strength to improvement of global economic governance," Xi said.
During the ceremony, Chinese Finance Minister Lou Jiwei was announced to be elected as the first chairman of the AIIB board of governors. Jin Liqun was elected the first AIIB president.
In addition to subscribing capital according to plan, China vowed to contribute 50 million U.S. dollars to the project preparation special fund to be established soon, to support the preparation for infrastructure development projects in less developed member states.
The AIIB will promote infrastructure related investment and financing for the benefit of all sides, Xi said, keeping Asia's enormous infrastructure development demand in mind.
Calling the initiative to establish the AIIB "a constructive move," Xi said it will enable China "to undertake more international obligations, promote improvement of the current international economic system and provide more international public goods."
Statistics from the Asian Development Bank (ADB) show that between 2010 and 2020, around eight trillion U.S. dollars in investment will be needed in the Asia-Pacific region to improve infrastructure.
Xi expected the China-initiated institution and other existing multilateral development banks to complement each other for mutual strength and cooperate on joint financing, knowledge sharing and capacity building.