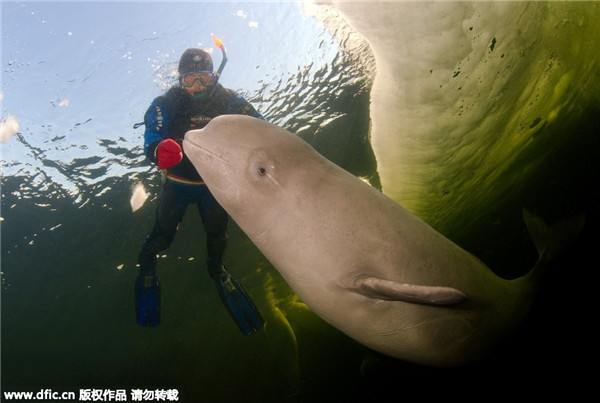 Freediver dives under ice with White whale,at Beluga in Arctic, Russia on Oct 15, 2014.[Photo/IC]
Adventure sports continue to be the top draw for young, wealthy Chinese entrepreneurs with a growing number of them preferring it over riding or sailing, a new report said.
According to the Hurun Report Chinese Luxury Consumer Survey 2016, about 43 percent of the 458 surveyed with average personal wealth in excess of 43.7 million yuan ($6.63 million), chose adventure sports as their top passion, ahead of riding and sailing in 2015.
Lending credence to the findings is the New Year resolution of 30-year-old millionaire Shao Shaoqing, who wants nothing more than to obtain a diving license. Like Shao, several of his peers are also turning to other adventure sports like deep-sea diving, bungee jumping and paragliding.
"We prefer adventure sports as it challenges our limits and allows us to relax from the daily work pressure," said Shao, the general manager of Wenzhou Hailuo Group, a trading firm, which was founded by his father more than three decades ago.
The average age of the respondents tracked by Hurun for the survey was 37 for millionaires and 38 for billionaires.
Yet another surprising finding from the study is that jogging is still a popular sport with the Chinese superrich, with about 16 percent of the male and female millionaires keen on the sport.
The report also included the Hurun Business Confidence Index, which indicated that about 80 percent of the respondents are positive on the Chinese economy in the next two years, although only 27 percent are "extremely confident".
The top three sectors chosen by the rich entrepreneurs for investment were the stock market, real estate and fixed income.
"Majority of Chinese businessmen are quite confident about the steady growth of China's economy, which will bring them more opportunities in the coming years," said Rupert Hoogewerf, the founder and chief researcher of Hurun Report.
Gifting showed a 15 percent growth after a three-year decline due to the government's austerity campaign, even as wealthy people started paying more attention to social networking sites.
The top three destinations for travel changed slightly, with France regaining the top slot ahead of Australia. The United States jumped from seventh to the third position after it decided to issue 10-year tourist visas in 2015.