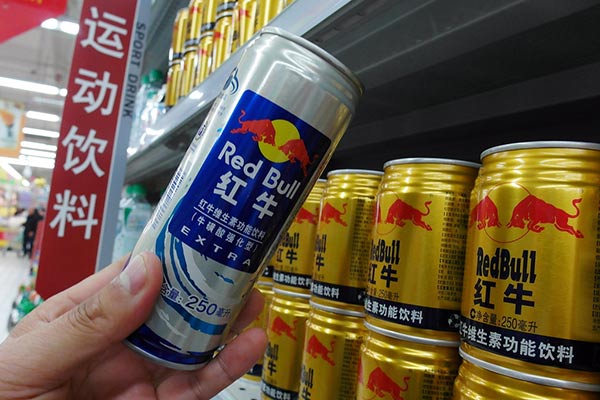 Cans of Red Bull for sale at a supermarket in Yichang, Hubei province. [LIU FENGJUN / FOR CHINA DAILY]
The creator of Red Bull confirmed it is negotiating for the "right" structure and method of cooperation with Thai-Chinese property developer, the ReignwoodGroup, the company distributing the energy drink in China, as demand for the product continues growing.
Thailand-based TC Pharmaceutical Industries Co Ltd was reacting to reports that had suggested the distribution agreement would be ended when it expires soon.
But instead TC Pharma CEO Saravoot Yoovidhya has insisted the two are now discussing how they can continue working together to reinforce Red Bull's share of the booming Chinese energy drinks market.
Created in 1965, TC Pharma invented and remains the sole owner of the Red Bull trademark globally.
Figures from Euromonitor International showed the brand is now considered the world's most popular energy drink, with a commanding 43 percent global market share in 2014. It also led the segment in China, selling more than 5 billion cans of the drink.
"We are discussing what is the right structure and the right method of doing business together, in the future as a partnership," said Yoovidhya.
Chaleo Yoovidhya, the founder of TC Pharma, and Chanchai Ruayrungruang, a Thai-Chinese entrepreneur, established the Reignwood joint venture in Beijing in 1995 to introduce Red Bull to China.
"We introduced everything-the production system, the flavors, the concept of our product, even the formula, using local teams," Yoovidhya said.
"It has been 20 years now, and the market has changed a lot in that time. We need to make some adjustments for the future."
TC Pharma's business expansion model is based on forming joint ventures globally, in which the Thai firm always holds a majority stake.
According to business informat provider Nielsen, sales of such so-called functional drinks in China grew 24 percent last year, compared with an average 5 percent for fast moving consumer goods.
Liang Mingxuan, a food researcher from Shenzhen-based CI Consulting, said as the Chinese market becomes more health conscious and household incomes keep rising, the functional drinks market will keep rising too, most likely at the expense of fruit juice products.
The most obvious sign of that already happening, he said, are the growing number of brands now available, and companies already realize profit margins are higher for functional than any other drinks groups.
Yoovidhaya claimed Red Bull has effectively led that part of the Chinese market for two decades, but he admitted it is now becoming tougher, as more products flood the shelves and Chinese consumers become increasingly sensitive about price.
"We've had a long run in China, and it will continue to be an important market for Red Bull," he said.
Surprisingly for many, the carbonated version of Red Bull, introduced in other markets as far back as 1987, only arrived in China two years ago, as tastes here continued to track those in the West.