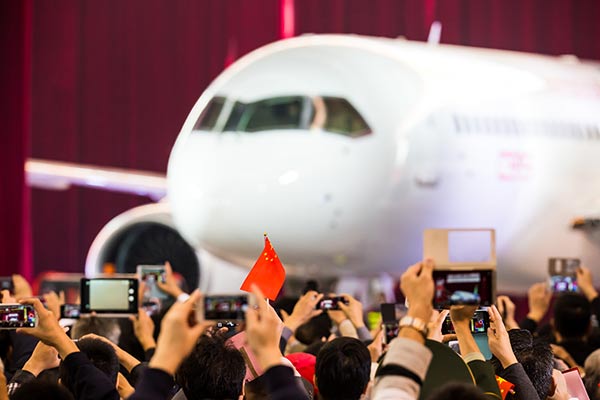 The first home-made passenger airplane, C919, rolls off the assembly line. [CHEN XIAO / FOR CHINA DAILY]
Homemade aircraft C919 nears takeoff
C919, the first China-made 15-seat passenger aircraft, rolled off the final assembly line on Nov 2, seven years after the project was launched, marking a milestone in Chinese civil aviation history.
The C919 aims to compete with the Airbus 320 and the Boeing 737, the world's most popular aircraft.
COMAC, the maker of the C919, has already received 517 orders from 21 customers globally. At least three years will pass before the planes are delivered to customers. The C919 is expected to make its maiden flight in 2016.
Another hot topic this year was the deepening anti-corruption drive in civil aviation. Several senior officials of the aviation authority as well as executives of State-owned airlines, including Zhou Laizhen, former deputy director of the Civil Aviation Administration of China, and Si Xianmin, former chairman of China Southeastern Airlines, were netted by the top anti-graft watchdog in the year.
-WANG WEN