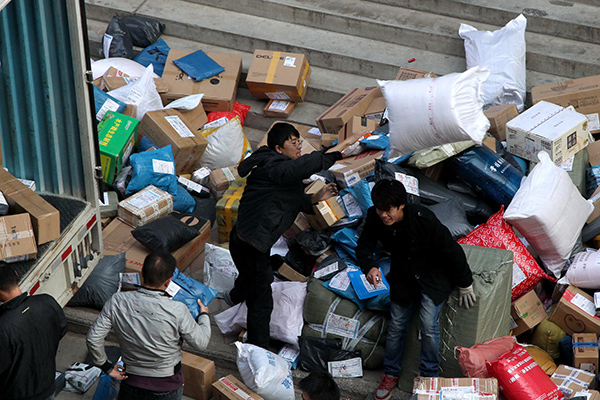 Deliverymen sort packages at the front gate of a logistics company on Nov 3 in Zhengzhou, Henan province. The Chinese delivery industry had revenues of 204 billion yuan ($32 billion) in 2014, up 42 percent year-on-year. [Photo/China Daily]

Couriers that handle packages roughly or leak customer information could face large fines
The central government is coming up with stricter rules to regulate the booming delivery industry, which has been largely buoyed by the growth in Chinese e-commerce.
Under the draft released on Monday, Chinese courier companies might face fines of up to 50,000 yuan ($7,800) and lose their licenses for leaking customers' personal information.
The draft also addresses the rough handling of parcels, which has led to a number of customer complaints.
Couriers who toss or step on parcels, or otherwise mishandle packages in a way that causes damage, could face fines up to 50,000 yuan as well as suspension of company operations.
Jiang Chuanjun, 37, a lawyer in Shanghai, said he was once really surprised to find that a ceramic kettle he bought online was delivered to him in pieces.
The box had a huge dent in the center with the corners all badly torn. A complaint to the online retailer was in vain because the shop owner told him it was the responsibility of the courier.
But the courier said they had done everything according to the company's regulations, seeing nothing wrong in the whole process.
The new rule will prevent similar cases from happening. The draft will be posted online to solicit public opinion until Dec 15, the Legislative Affairs Office of the State Council said.
"But it is one thing for the government to come up with stricter rules, but quite another for the companies to really improve their quality," said Jiang.
"I have shopped a lot from overseas online platforms and was never disappointed once.
"I think Chinese companies should have the awareness themselves and improve their services because they want to. Only in this way can the industry see a healthy development."
According to the State Post Bureau, the Chinese delivery industry had total revenues of 204 billion yuan in 2014, up 42 percent year-on-year.
The total number of goods delivered by courier firms reached 14.6 billion items, overtaking all other markets in the world.
Xinhua contributed to this story