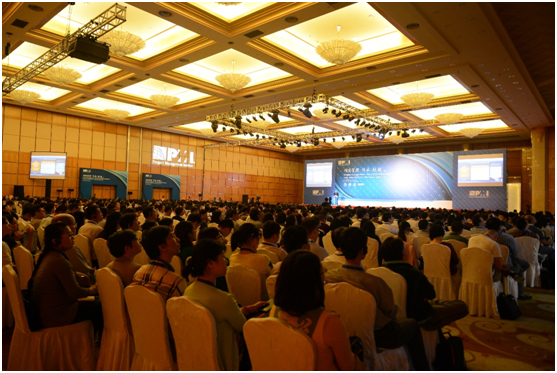 PMI (China) Congress 2015 [Photo provided to chinadaily.com.cn]
Explore Project Management Trends Under Chinese New Policies
PMI (China) Project Management Congress 2015 was held in Shanghai October 24-25. As a regional office of Project Management Institute (PMI), PMI (China) invited executives from headquarters in the US, officials of Training Center of the State Administration of Foreign Experts Affairs (TCSAFEA) together with renowned subject matter experts and senior leaders from home and abroad delivered speeches. The Conference attracted nearly 2000 guests.
Value of Project Management Recognized in China In the "Internet Plus" Era
2015 World Economic Situation and Outlook issued by the United Nations in May predicts global economic growth rate to be 2.8%, showing a continued slowing trend with risk of recession; while it pointed out that East Asia continues to be world's fastest growing economies, with a 4.4% increase. The newly released Fortune Global 500 list let us see the rapid growth of Chinese companies, with 106 entities on the list, ranking the second most in the world. On the other hand, Chinese enterprises also are facing complex challenges. The Generalized System of Preference (GSP) policy China has benefited for 15 years after joining WTO comes to an end in 2015, and China is obliged to allow foreign capital to enter all industries in China since July, including mining, transportation, steel, securities and finance, which are long under strict government control. Plus the sweeping release of news policies of 'Internet+' and 'Made in China 2025', Chinese enterprises are on the turning point to embrace change and transform in order to maintain competitive edge.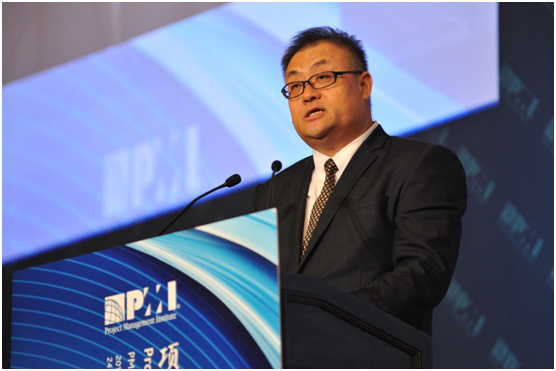 PMI (China) Managing Director Mr Bob (Yong Tao) Chen giving speech. [Photo provided to chinadaily.com.cn]
In this context, the value of project management and cultivation of PM talent become more and more recognized in China, and have gradually become the significant instrument to improve organizations' performance, where PMI's knowledge system and credential family are adopted as effective facilitators. According to PMI official statistics, till August 2015, total number of Project Management Professional® (PMPs) accredited by PMI around the globe has reached 669,688. Among them more than 120,000 PMPs are from China, accounting for about 18% and keeps growing. In the decade after PMI setup China office in Beijing, over a million people received PMP training in China, and the demand for PMP and project management training are still increasing.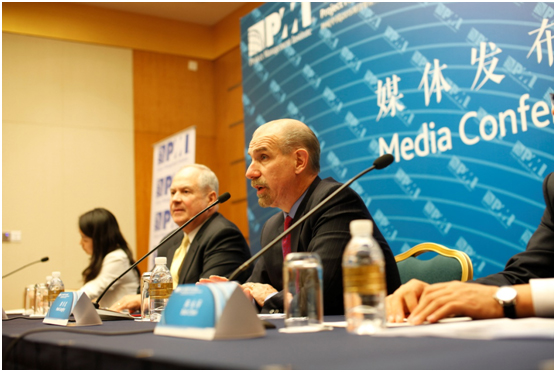 PMI President and CEO Mr Mark Langley at Media Conference. [Photo provided to chinadaily.com.cn]
"Currently, Chinese PMPs accounts for 1/6 in the world, and this figure is expected to increase to 1/5 in the next two years." PMI President and CEO Mr Mark Langley stated in an interview, "Chinese market is of vital importance to PMI. We will continue develop the market. With current base in Beijing, Shanghai and Shenzhen, PMI will tap water the inland Southwest and Southeast China, providing related products and service for local enterprises to improve their project management maturity. The funniest thing about project management is that, regardless of economic growth or downturn, it can always make a difference. Particularly in the case of economic slowdown or recession, project management can help organizations achieve their goals with higher efficiency and lower costs."
The Congress theme "Next Generation and Beyond" highlights the latest trends in Project Management
In 2010, the first PMI (China) Congress was held in Beijing, after which it become annual and this year we welcome the 6th Congress.
Looking back, we can easily find that PMI adheres to the mission of advancing global project management theories and practices and bringing value of project management to organizations. With its broad international professional platform, exclusive research resources and the support from all walks of life, PMI hold project management conferences around the globe to promote the concept and share latest trends. PMI (China) Congress has become one of the biggest professional events in the Asia-Pacific, attracting much attention from leading enterprises and domestic project management practitioners in the area.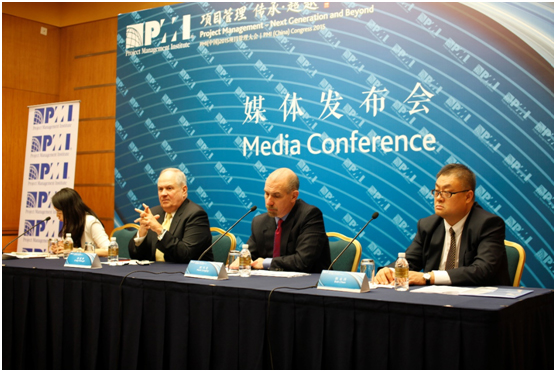 PMI (China) Congress Media Conference. [Photo provided to chinadaily.com.cn]
The them of "Next Generation and Beyond" reflects the current priorities and trends of global project management: knowledge transfer and talent management. According to PMI 2015
Pulse of the Profession®
report, the result of which delivered on the keynote by Mark, since all strategies and initiatives are executed through project management, it's pivotal for enterprises to be back to the basics of project management, follow standardized PM practices, build its own talent pool and knowledge center – the two factors of an organization's survival and transform, and form a culture that recognize PM value and embrace change.
When it comes to the state of project management in Chinese enterprises, PMI Vice President of Organization Markets Mr Craig Killough claims that, the gap between Chinese and foreign enterprises on project management has been significantly narrowed. China now has an growing organizational capacity and owns strong competitive edge in many great projects, including high-speed rail project.
The conference was comprised of a whole day plenary session and another day of four breakout sessions. PMI (China) PM Award Ceremony, a program to acknowledge excellent projects and organizations in China, was also held on the Congress, presenting awards to ZTE, Huawei, GREE Inc, Bosch, etc. The Congress also invited awarded representatives to talk about their best practices and insights, which arouse great interest among attendees.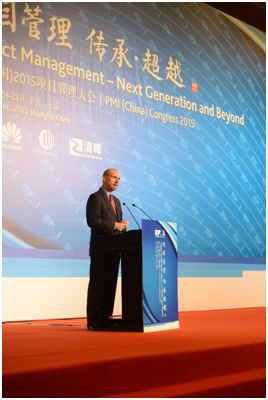 PMI President and CEO Mr Mark Langley giving speech. [Photo provided to chinadaily.com.cn]
The breakout sessions have different themes, i.e.Project Management Office, Project Manager Career Development, Large and Complex Projects & Organization Agility and Cross-Cultural Project Management Collaboration. Top experts and experienced executives gave speech and discussed how to manage project, program and portfolio management under various scenarios. They also have dialogues about project managers' occupational planning and development, current industry project, and agile adoption, etc.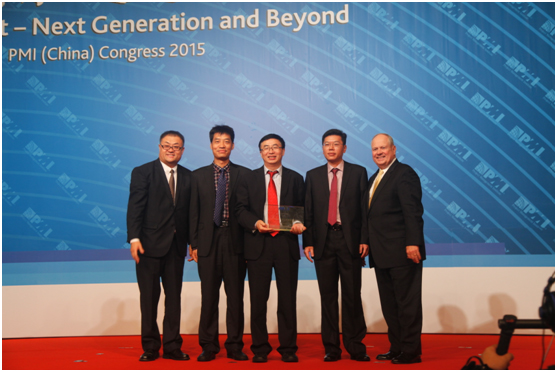 PMI (China) PM Award Ceremony. [Photo provided to chinadaily.com.cn]
With the aim of helping local organizations and individuals on project management, PMI (China) Project Management Congress received positive feedbacks and support from industries and practitioners, by providing such a extensive platform for knowledge sharing and networking. With the development of PMI (China) and project management, PMI (China) congress will be more inspiring and exciting in the future.