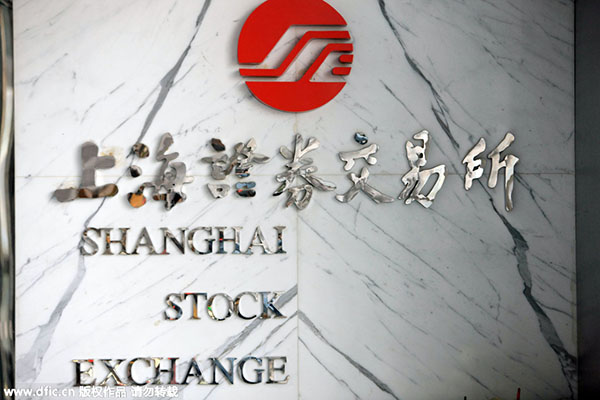 View of a signboard of Shanghai Stock Exchange in the Lujiazui Financial District in Shanghai, March 11, 2014. [Photo/IC]
China and the United Kingdom are exploring the launch of a stock trading link between the Shanghai and London stock exchanges, highlighting the strong desire on both sides to strengthen cooperation in the capital markets.
A document issued by the UK government's finance ministry said that Shanghai and London had agreed to carry out a feasibility study for the connect scheme between the two bourses, Reuters reported on Monday.
The announcement came ahead of a speech by the British Chancellor of the Exchequer George Osborne on Tuesday at the Shanghai Stock Exchange.
Osborne is visiting China to attend the annual China-UK Economic and Financial Dialogue.
Sources close to the Shanghai Stock Exchange said that Osborne personally asked to deliver his speech at the trading hall in the city, an iconic place for China's capital market, indicating the strong British interest in seeking a partnership with the Shanghai bourse.
The Shanghai Stock Exchange declined to provide any details or a timetable for any launch of the trading link with London.
Analysts said the planned Shanghai-London trading link was a clear message to energize investor sentiment after both the Chinese and world equities markets had been weighted down by rising uncertainties.
"It sent out a message that Beijing is hoping to lift the A-share market through the possibility of expanding market access to more foreign investors," said Wang Yang, head of A-share business at accounting firm EY.
"London will also be happy to see more investment from China into its stock market," she added.
Xu Hongcai, director of economic research at the China Center for International Economic Exchanges, said it underscored the countries' mutual desire to seek greater cooperation in capital markets.
"London is hoping to attract more Chinese companies to list on its stock exchange, while Beijing sees London as a key market to expand the internationalization of the yuan," he said.
It is very likely the Shanghai-London stock trading link will be operated under trading rules and investment quotas similar to the Shanghai-Hong Kong Stock Connect scheme, which allows overseas investors to trade Shanghai shares in Hong Kong and mainland investors to trade Hong Kong shares in Shanghai.