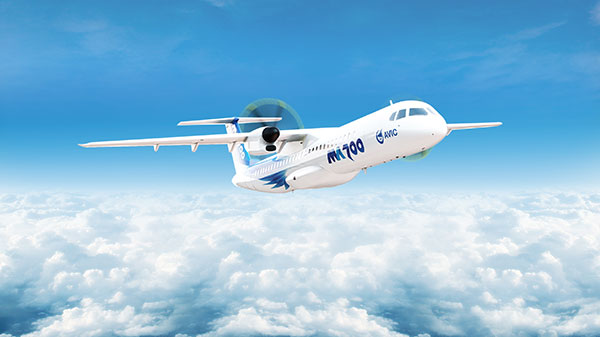 An illustration of the 70seater MA700 passenger aircraft, which will be rolled out in 2017. [Photo/Xinhua]
China's military contractors will help fuel economic growth by turning technology into commercial success
China is stepping up plans to turn military technology into commercial success, which will fuel economic growth in the country.
Ahead of the Victory Day parade to mark the 70th anniversary of the end of World War II, senior officials and industry professionals talked about the growing "crossover" trend in the high-tech sector.
Miao Wei, chief of the Ministry of Industry and Information Technology, said using military technologies in civil industries will "significantly boost product values" and lift domestic consumption.
Major companies such as China Aerospace Science and Technology Corporation, Aviation Industry Corporation of China, or AVIC, China Aerospace Science and Industry Corp, or CASIC, and China North Industries Group Corp are branching out into commercial sectors.
Key projects involve cutting-edge aviation sensor chip manufacturing, undersea cable construction and technologies normally associated with defense firms, according to the MIIT.
"China needs to develop its own engines and chips, so there is not a bottleneck in the aviation industry or the Internet of Things (a network of objects which are interconnected while exchanging and generating data). These sectors are vital for the country's growth," Miao said.
Chinese companies have also put together cooperation deals with overseas partners in the fields of aerospace, aviation, shipping and nuclear power.
Technologies normally reserved for military contractors have been rolled out, with commercial customers in advanced machinery manufacturing, new materials, energy-saving and environmental protection sectors showing the greatest interest.
"The country should set up a mechanism so technologies can be transferred to civilian customers easier," Gao Dongguang, deputy secretary of China Federation of Patriotic Projects and a consultant to the country's top national security commission, said. "Industry watchdogs are also required to keep the tube well-functioned."
Still, China Electronics Technology Group Corp and China Shipbuilding Industry Corp have reported interest from commercial clients. Local governments have also been keen to play a role in this "crossover" trend.
Mianyang in Southwest China's Sichuan province will host a technology expo later this month, introducing military-only technologies to civil industries. The show has attracted leading players in the sector, including China National Nuclear Corp and the General Armament Department of the People's Liberation Army.
"The defense industry is a unique part of the nation's grand plan of 'Made in China 2025' ... the development institutes are industry elites and represent the highest level in research," Xu Dazhe, head of the State Administration of Science, Technology and Industry for National Defense, said.
As China replaces out-of-the-date manufacturing techniques with advanced technologies in the next five years, defense companies will increase their business in the commercial sector.
Jia Yanchen, head of patent auction at China Technology Exchange, has called for long-term government support to increase interaction between the military and civil industries.
"It usually takes three-and-a-half to 8 years to fully commercialize a technology," Jia said. "The government has to make sure this goal can be achieved in the long-term."
gaoyuan@chinadaily.com.cn