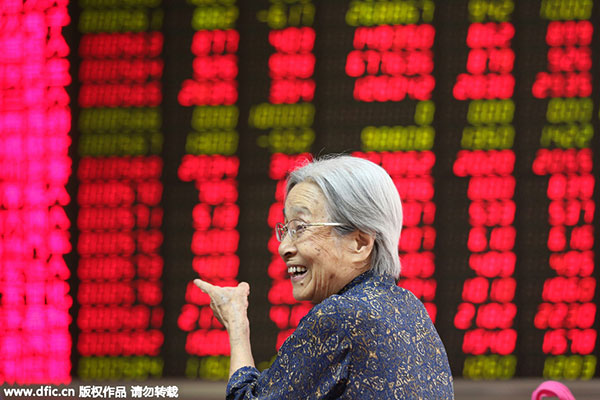 An investor gestures in front of an electronic screen showing the stock composite index at a brokerage house in Beijing, August 28, 2015.[Photo/IC]
China stocks rose on Friday on expectation of further easing measures from government. With these gains adding to Thursday's recovery, investors seem to have regained confidence in the market.
The benchmark Shanghai Composite Index jumped 4.81 percent to 3,232.85 on Friday and the smaller Shenzhen Component Index was up 5.32 percent to 10,800 points.
Market sentiment grew positive after series of easing measuring were rolled out this week by government and regulatory agencies. China Securities Finance Corp Ltd applied for allotment of 1.4 trillion yuan in inter-banking borrowing, the second time it has applied for funding to stabilize the market.
Chinese government green lighted foreign capital to enter Chinese property market and allow foreigner to buy property in China. Cabinet approved pension fund to invest in the stock market, with up to 600 billion yuan ($97 billion) likely to be injected into the market.
The slew of easing measures showed Chinese government's determination to keep stock market stable. Since individual retail investors dominate Chinese stock market, government's attitude toward stock market is crucial, according to analyst at wlstock.com, the easing measures is great news for the moment, but fluctuation can be expected in the future.