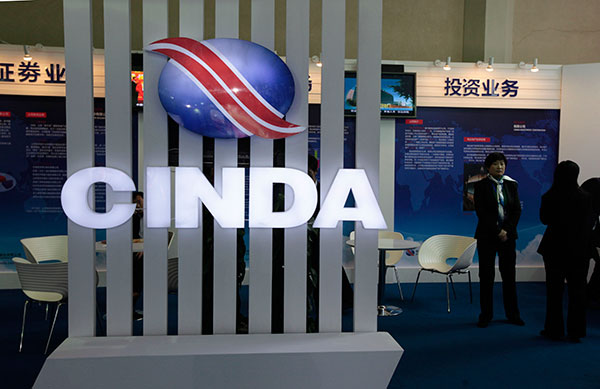 A booth of China Cinda Asset Management Co at an international exhibition in Beijing. The company was the sole bidder for Hong Kong lender Nanyang Commercial Bank Ltd in an auction that drew little interest amid the cooling economy. [Photo provided to China Daily]
China Cinda Asset Management Co was the sole bidder for Hong Kong lender Nanyang Commercial Bank Ltd in an auction that drew tepid interest amid China's cooling economy, according to sources close to the deal.
The Chinese bad-loan manager was the only firm to submit a binding offer by the deadline on Tuesday, paving the way for it to win the auction pending final negotiations with Bank of China Hong Kong Holdings Ltd, the people said. It will pay near the reserve price of HK$68 billion ($8.8 billion), said one source.
A deal at that price would be the largest purchase of a Hong Kong lender, surpassing DBS Group Holdings Ltd's $5.4 billion takeover of Dao Heng Bank Ltd in 2001, according to data compiled by Bloomberg.
The auction comes amid a $5 trillion stock rout in China that has triggered unprecedented government intervention in the market. "It shows that some of the suitors were concerned about the macro economy and the banking industry," said Linus Yip, a Hong Kong-based strategist at First Shanghai Securities Ltd.
"Bidding for Nanyang shows a different direction for Cinda's business strategy. This move shows that Cinda, as a bad loan manager, wants to diversify in the financial industry."
The reserve price was equivalent to 1.95 times Nanyang Commercial's book value at the end of 2014. The transaction will add to the $7.3 billion of bank takeovers in Hong Kong over the past five years as the city's role in cross-border financing expands, the Bloomberg-compiled data show.
Cinda, based in Beijing, was created in 1999 to buy bad debts from State-owned Chinese banks on the verge of insolvency. The company, which had 544.4 billion yuan ($84.9 billion) of total assets at the end of last year, has been expanding to offer other financial services including fund management, insurance, leasing and securities broking.
BOC Hong Kong, an arm of China's fourth-largest lender by assets, said in July it was seeking at least HK$68 billion for Nanyang as part of a push to focus more on Southeast Asia.
BOC Hong Kong said on July 15 it would only accept bids from Chinese State-owned enterprises with experience operating a financial institution.
China Resources Holdings Co and Yue Xiu Group, owner of Hong Kong's Chong Hing Bank Ltd, were among suitors weighing binding offers for Nanyang, industry sources claimed last month.