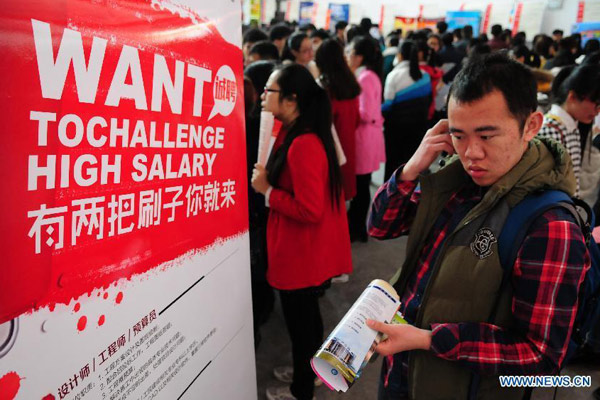 A job seeker looks through employment information at a job fair held for fresh graduates in Liaocheng City, East China's Shandong province, March 14, 2015. [Photo/Xinhua]
BEIJING - While most Chinese college graduates are busy settling into new jobs, some have decided to delay the working world for now and wait out a tough job-hunting season.
Li Yu from Anhui Agricultural University is among 7.49 million new Chinese college graduates this year -- a record high. Instead of looking for jobs, he spent the summer studying at several modern agricultural zones in East China's Anhui province.
"I want to spend some time gaining experience in farm management," he said. "It will help me start my own farm and allow me to run it better in the future."
This year's job-hunting season saw 220,000 more graduates hit the market than in 2014, and slowing economic growth has meant diminished recruitment of new grads by companies.
According to the National Bureau of Statistics (NBS), the unemployment rate of recent college graduates stood at 7.74 percent, well above the average.
Some Chinese college students, like Li, have chosen to remain jobless after graduation to pursue travel, startups, or volunteering instead.
"Whatever we choose to do, most of us are looking for what's best for us," Li said. "As long as what we are doing now is beneficial to our future, it is a smarter choice than getting hired upon graduation."
Wang Man, 25, who graduated last year, agrees with Li. She rejected a secretary position with a company in Hefei, capital of Anhui province, and has been traveling since then.
"I don't like monotonous work," she said. "To be frank, I haven't decided what to do yet. It won't do me any good to define my career hastily."
Supporters applaud these young people for throwing off outdated thinking and advocating a fresh attitude toward employment.