Santa's workshop is not in the North Pole, it is in Yiwu, a city in China's Zhejiang province.
Yiwu is famous in China as a commodities center. The Yiwu market was developed and is managed by Zhejiang China Commodities City Group Co Ltd.
Yiwu's China Small-Commodity Market has topped China's 100 top open markets for six consecutive years and was for successive years listed as "China's civilized open market". It has been named as the shinning example of China's market economy and has a large variety of quality but cheaper commodities.
Beginning in summer, the best selling items at Yiwu market are Christmas decorations. Yiwu is the biggest Christmas products market in the world and two-third of Christmas products come from Yiwu. Orders for Christmas products from overseas distributors started to come in during March.
According to data from Customs, Christmas product exports have seen strong growth since April. Exports grew 23 percent year on year to reach 120 million yuan ($18.77 million) in June.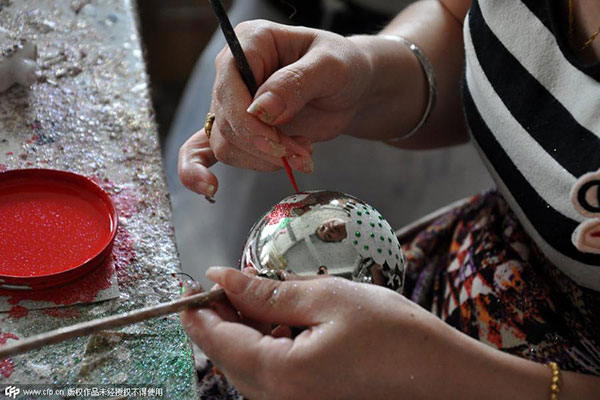 A worker paints Santa Claus on a tree ornament in a factory in Yiwu, Zhejiang province, August 13, 2015. [Photo/CFP]