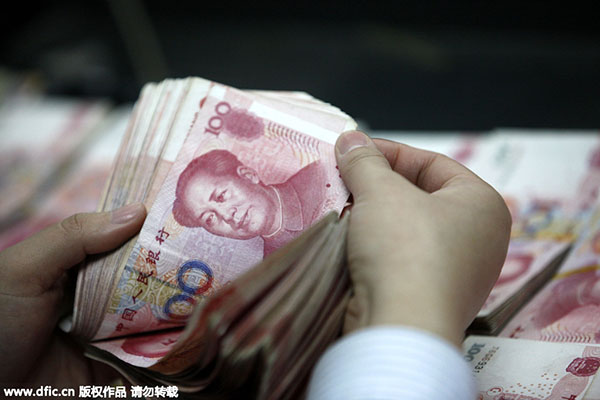 A Chinese clerk counts RMB (renminbi) yuan banknotes at a bank in Huaibei city, East China's Anhui province, January 22, 2015.[Photo/IC]
More small, micro companies to benefit through end of 2017 in innovation drive
More small and micro businesses will be eligible for tax breaks as China strives to encourage innovation and boost employment in the face of downward economic pressure, the State Council decided on Wednesday.
An executive meeting of the council, presided over by Premier Li Keqiang, decided that businesses with annual taxable income below 300,000 yuan ($46,900) will be eligible for a 50 percent reduction in business income tax.
The policy will be effective through the end of 2017. Eligible companies will pay a 20 percent tax rate, five percentage points lower than peer businesses.
It is the second time this year that the State Council, China's Cabinet, has raised the income threshold for businesses to qualify for the tax reduction. In February, the government raised the threshold for small and micro companies from 100,000 yuan to 200,000 yuan.
In addition, the State Council decided on Wednesday to extend through 2017 the exemption of the value-added tax and sales tax for small businesses and individually owned businesses with less than 30,000 yuan in monthly sales. The exemption had been set to expire at the end of the year.
Tax breaks for small and micro businesses in China totaled 61.2 billion yuan last year, according to the State Administration of Taxation, the country's top taxation authority. At least 10 billion yuan of business income tax has been reduced, and more than 2.46 million businesses have benefited, the administration said.
Wang Yuanzhi, deputy secretary-general of the China Association of Small and Medium Enterprises, said small and micro businesses-mostly private companies-are good job creators.
"A healthy development of small businesses contributes greatly to the vitality of the market and helps the national economy to counter the downward pressure" he said.
Economic indicators in July fell short of market expectations, showing that the Chinese economy still lacks momentum.
The country's value-added industrial output, which measures the final value of industrial production, expanded by 6 percent year-on-year in July, down from 6.8 percent in June.
Fixed-asset investment, a major driver of growth, also witnessed slightly slower expansion, with no sign of improvement for investment in property and infrastructure. Retail sales held steady in July, with the growth rate just 0.1 of a percentage point lower than a month ago.
Wednesday's meeting also decided to take pro-growth measures, including the development of the logistics industry and big data industry, as part of the government's efforts to prop up the economy.