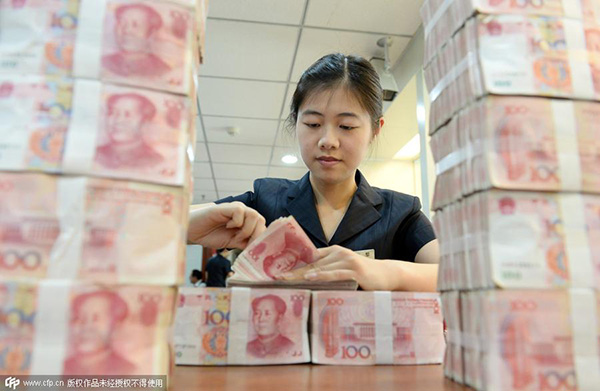 A bank clerk at a Bank of China branch in Nanchong, Sichuan province. Many small Chinese investors are turning their backs on low interest savings accounts and moving their money into online funds. [Photo/CFP]
Personal investable assets are expected to grow by 13 percent annually to reach 196 trillion yuan ($31 trillion) in the next five years, a new report said.
The number of high-net-worth families is estimated to rise 11 percent every year to 3.46 million during the same period, said the report released by Industrial Bank Co Ltd and The Boston Consulting Group on Tuesday.
Between 2013 and 2015, China recorded an annual growth of 21 percent in personal investable assets, which are expected to reach 110 trillion yuan by the end of this year.
The rapid increase in private wealth is the result of various factors, including a relatively high GDP growth, demographic dividend and the fast development of the capital market in the past three years, the report said.
In terms of geographical distribution, as the core regions of China's economic growth will move from eastern coastal areas to inland areas, high-net-worth families will have greater potential for growth in Chongqing municipality, Sichuan and Henan provinces, and the Inner Mongolia autonomous region, compared with Beijing, Shanghai and Guangdong province.
It is important for commercial lenders to make the first move in these inland regions because they are likely to become key areas of growth in private banking business, the report said.
Chen Jinguang, vice-president of Industrial Bank, said: "Only about 8 percent of the high-net-worth individuals in China are using private banking services. With their demand for customized products and services slated to grow, private banking has huge room for development in terms of providing comprehensive trans-sector, trans-product and trans-border financial services."
The investment demand of high-net-worth clients is also turning from individual services to family services, which will lead to a bright future for family wealth management, the report said.
According to the survey, which was conducted on 1,265 high-net-worth clients across 18 provinces and cities this year, 84 percent are married and have children. Among them, 21 percent have started making arrangements for the inheritance of wealth and 37 percent are considering it.
An increasing number of Chinese billionaires will pay close attention to a family office that manages investments and trusts for a single family, said Karen Chen, president of UBS (China) Ltd, when Swiss financial services company and global consultancy PwC jointly launched the 2015 Billionaires Report in May.
"Chinese billionaires are more aggressive than their counterparts in the United States and Europe in terms of their investment style. With rich experience in the domestic market, they like to take part in investment decision-making," Chen said.
"We hope to help them untangle their emotions from investing and make long-term investment strategies based on their needs."